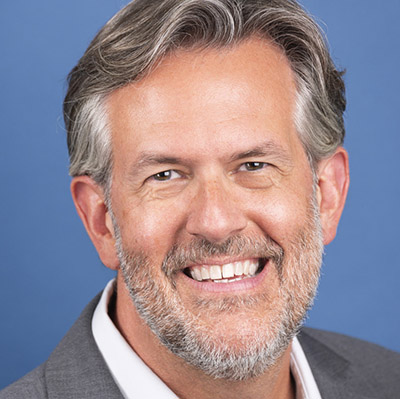 George Bach
Lee & Leon Karelitz Professor in Evidence and Procedure
Education
B.A. 1992, Centre College of Kentucky
J.D. 2002, University of New Mexico School of Law
Member of the New Mexico Bar
Profile
George Bach teaches constitutional law, federal jurisdiction, civil procedure, evidence, and trial practice. He has also taught employment and labor law and has served as a supervising attorney in the law school's Child & Family Justice Clinic.
During and after law school, Bach worked for K. Lee Peifer (`77), litigating in civil rights, union-side labor law and employee-side employment law. In 2005, Bach became the first staff attorney at the American Civil Liberties Union of New Mexico, where he litigated a wide variety of civil rights cases in state and federal courts. In 2009, he teamed up with Matthew L. Garcia ('05) and formed the firm of Bach & Garcia. He also worked as an attorney at Garcia Ives Nowara.
A former president of the New Mexico Lesbian and Gay Lawyers Association, Bach was honored with a Santa Fe Human Rights Alliance "Treasure" Award for his work in the LGBT community. In 2020, he received the UNM Alumni Association Faculty Teaching Award.
Bach serves as a volunteer member of the American Civil Liberties Union of New Mexico's legal panel and on the board of directors for Enlace Comunitario. In his off time, he walks dogs for Animal Humane New Mexico.
Publications
Articles
Moderating the Use of Lay Opinion Identification Testimony related to Surveillance Video, 47 Florida State University Law Review 447 (2020).
Available at: SSRN
More on Dignity in Eighth Amendment Conditions of Confinement Claims, 42 NEW ENG. J. CRIM. & CIV. CONFINEMENT 1 (2016).
Answering the "Serious Constitutional Question": Ensuring Meaningful Review of All Constitutional Claims , 117 W. VA. L. REV. 177 (2014).
Available at: UNM-DR
Defining "Sufficiently Serious" in Claims of Cruel and Unusual Punishment, 62 DRAKE L. REV. 1 (2013).
Available at: DLR
State Law to the Contrary? Examining Potential Limits on the Authority of State and Local Law Enforcement to Enforce Federal Immigration Law, 22 TEMP. POL. & CIV. RTS. L. REV. 67 (2012).
Available at: SSRN
Iqbal Is Not a Game-changer for Discovery in Civil Rights Cases, 42 N.M. L. REV. 329 (2012) (co-authored with Matthew L. Garcia).
Available at: NMLR
Essays
Federalism and the State Police Power–Why Immigration and Customs Enforcement Must Stay Away from State Courthouses, 54 WILLAMETTE L. REV. 323 (Spring 2018).
Available at: SSRN
Out and About Because I Can Be, Out and About – The LGBT Experience in the Legal Profession (ABA Commission on Sexual Orientation and Gender Identity ed. 2015)
Available at: Law Library
Popular Press
'Off with their heads' won't make ABQ safer, ALBUQUERQUE J. (June 10, 2019)
Available at: UNM-DR
Lawmakers wrong to call for judge to quit, ALBUQUERQUE J. (February 1, 2019)
Available at: Albuquerque Journal
Briefs
Brief for the New Mexico Trial Lawyers Associations as Amicus Curiae, Montaño v. Frezza, 2015-NMSC-069 (2015) (N.M. SUP. CT. NO. 35,214).
Available at: UNM-DR
Brief for the American Civil Liberties Union of New Mexico as Amicus Curiae, Ramirez v. State of N.M. Children Youth and Families Department, 2014-NMSC-057 (2014) (N.M. SUP. CT. NO. 34,613).
Available at: UNM-DR
Brief for the Professors at UNM School of Law as Amicus Curiae, Fry v. Lopez, (2014) (N.M. SUP. CT. NO.34,372)  and Allen v. LeMaster, (2014) (N.M. SUP. CT. NO. 34,386).
Available at: UNM-DR
Brief for the Professors at UNM School of Law as Amicus Curiae, Griego v. Oliver, 2014-NMSC-003 (2013) (N.M. SUP. CT. NO.34,306).
Available at: UNM-DR
Resources
Civil Procedure Update 2020, New Mexico Annual Judicial Conclave (June 16, 2020)
Available at: UNM-DR
Hot Topics under the First Amendment, Albuquerque Bar Association CLE (January 2014)
Available at: UNM-DR
Impeachment and Rehabilitation, Judicial Conclave (June 2013)
Available at: UNM-DR
[Some of] Your Evidence Questions Answered, Judicial Conclave (June 2013)
Available at: UNM-DR
Awards
2020 UNM Alumni Association Faculty Teaching Award
2019-2021 Karelitz Professorship for Evidence and Procedure
2018 Most Inspiring Professor
2017 Best Overall Professor
2017-2018 Karelitz Professorship for Evidence and Procedure
2015 Student Appreciation Award for Outstanding Service
2015 Recognition by the New Mexico State Senate for work at the UNM School of Law
2014 Professor of the Year Award
2013 "Dopest" Professor Award
2007 Santa Fe Human Rights Alliance Treasure Award, awarded for activism in the LGBT community
2004 ACLU-NM Cooperating Attorney of the Year (with Kari Morrissey and K. Lee Peifer)
News