Professor George Bach Passionate About Public Interest Law
October 9, 2012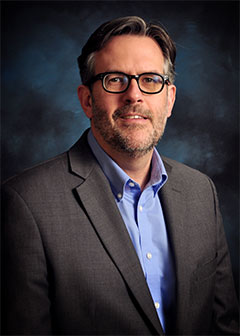 It was New Mexico's natural beauty that first captivated George Bach (`02) when he was a 15-year-old Boy Scout at Philmont Scout Ranch. A native of Kentucky, he knew then that he would return to the Land of Enchantment.
After his first summer working at Philmont in 1988 as a backpacking guide, he returned for five more summers, eventually holding the position of chief ranger, a year after earning his bachelor's degree from Centre College of Kentucky in 1992.
Bach joined the UNM law faculty in 2012 as an assistant professor. He teaches constitutional law, employment law, evidence, federal jurisdiction, clinic and practicum.
In between summers at Philmont, Bach was a ticket office supervisor at Keystone/Arapahoe Basin Ski Resort in Colorado for two years. He moved to Albuquerque in 1994, where he worked at Double Rainbow, now Flying Star Café.
Working on behalf of others
Bach is a 2002 graduate of UNM School of Law. "I loved it," said Bach. "The teaching was awesome and I clerked for Lee Peifer (`77), who was then in private practice. He took me everywhere and showed me all aspects of the field of employment and labor law, from depositions to trials." He also served as president of the New Mexico Lesbian and Gay Lawyers Association.
Bach worked for Peifer in practice after earning his J.D., until he joined the ACLU of New Mexico, first as staff attorney and then as managing attorney. For the next four-and-a-half years, he handled a variety of civil rights case and enjoyed memorable successes and equally memorable losses.
One highlight of his time at the ACLU was a case in Otero County in which the sheriff's department detained high numbers of undocumented immigrants under Operation Stonegarden, a federal initiative that was established to fight crime in border communities. The sheriff's department was detaining many people on petty misdemeanors and then turning over the suspects to the U.S. Border Patrol. In a single day in 2007, 28 people were arrested and turned over to the border patrol.
"We sued and negotiated an agreement to stop this," said Bach. "It didn't solve the whole problem, but it did a lot to stop these unlawful raids on undocumented immigrants."
He left the ACLU in 2009 to open Bach & Garcia with Matt Garcia (`05). He remains of counsel with Garcia Ives Nowara.
Turning to teaching
In 2010, Bach was invited to co-teach employment law at the UNM School of Law. He returned the following year as a visiting professor. He enjoyed the experience so much that he decided to shift his focus and join the academic arena. He interviewed at Albany Law School and the UNM School of Law. He was delighted to get to stay at UNM.
"I love working with students one-on-one and in the classroom," said Bach. "It's exciting to find ways to present difficult material in a clear manner and to stimulate students to think critically. I want students to leave a lecture with a good understanding of the law and how it works. And I want everyone to pass the bar exam."
Bach is proud of an honor presented by the Class of 2012 last spring: "Mr. Holland's the Dopest Award." The award was designed for a professor who enjoys being an educator and doesn't hide it from the students.
In his scholarship, Bach focuses on public interest law. He co-authored with Garcia "Iqbal is not a Game-changer for Discovery in Civil Rights Cases," which is forthcoming in the New Mexico Law Review. He draws from his ACLU experience in another forthcoming article in the Temple Political and Civil Rights Law Review. In the article titled, "State Law to the Contrary? Examining Potential Limits on the Authority of State and Local Law Enforcement to Enforce Federal Immigration Law," he discusses whether local law enforcement has the authority to enforce federal immigration law.
Outside the classroom, Bach donates his time teaching evidence and constitutional law for a bar prep course for recent graduates. He also serves as a member of the ACLU of New Mexico's Legal Panel and is a volunteer Big Brother.
When he can find time, Bach performs in community theater productions. His most recent role was as the Reverend T. Lawrence Shannon in Tennessee Williams' "Night of the Iguana" in 2011. "Acting helps me with my focus in the classroom and it clears my head!" he said.
Bach has two poorly behaved dogs, Boswell and Ladybug.