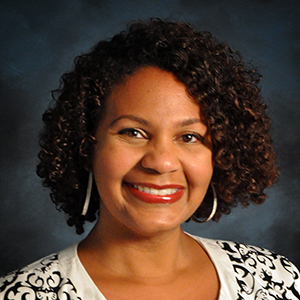 Sonia M.  Gipson Rankin
Associate Professor of Law
Education
J.D. University of Illinois College of Law
B.S. Morgan State University, Computer Science, summa cum laude
Member of the New Mexico Bar
Recipient of Garrett W. Flickinger Faculty Excellence Award, 2021-2022
Profile
Sonia Gipson Rankin teaches in the fields of Torts, Family Law, Technology and Law, and Race and Law.  Professor Gipson Rankin's scholarship and activism combine her computer science background with her passion for racial justice.  Her work focuses on two areas: 1. Race, technology, and law; and 2. Black family and community empowerment.  Her 2021 article, "Technological Tethereds: Potential Impact of Untrustworthy Artificial Intelligence in Criminal Justice Risk Assessment Instruments", was published in the Washington and Lee Law Review and explores the impact of cyberattacks and the unintended consequences of unmonitored AI on criminal justice risk assessment instruments.  Professor Gipson Rankin is a member of the Interdisciplinary Working Group on Algorithmic Justice—a collaboration of computer scientists, legal scholars, and social scientists from New Mexico who provide insight to attorneys and government officials on issues related to artificial intelligence.  She regularly presents on topics such as AI, kinship care, criminal justice reform, implicit bias, inclusive leadership, and Black community empowerment.  Regarding these issues, Professor Gipson Rankin has been quoted in numerous media outlets, including BBC World News and National Public Radio.
Before joining the University of New Mexico School of Law faculty, Professor Gipson Rankin served as the Associate Dean for Curriculum and Program Development in University College and as a Senior Lecturer in Africana Studies, both at UNM.  In 2016, Professor Gipson Rankin was named one of 10 Outstanding First-Year Advocates by the National Resource Center for her work related to first-year college students.  In 2018, she was honored as a Woman of Influence Award by the Albuquerque Business Journal.  She is former President of the New Mexico Black Lawyers Association and a member of the NM Supreme Court Commission on Equity and Justice.  Her mission is to inspire students, communities, and systems to seek justice with a spirit of excellence.
In the News
Publications
Articles
The MIDAS Touch: Atuahene's "Stategraft" and Unregulated Artificial Intelligence, 98 NYU Law Review Online 225 (2023).
Available at: UNM-DR
What's (Race in the) Law Got to Do With It: Incorporating Race in Legal Curriculum, 54 Conn. L. Rev. 923 (2022)
Available at: UNM-DR
Would You Make It to the Future? Teaching Race in an Assisted Reproductive Technologies and the Law Classroom, 56 FAM. L.Q. 1 (2022).
Available at: UNM-DR
Creating Lightbulb Moments: Developing Higher-Order Thinking in Family Law Classrooms Through Court Observations, 51.1 J.L. & EDUC. 17 (Spring 2022). 
Available at: UNM-DR
Technological Tethereds: Potential Impact of Untrustworthy Artificial Intelligence in Criminal Justice Risk Assessment Instruments, 78.2 WASH & LEE L. REV. (Spring 2021).
Available at: UNM-DR
Black Kinship Circles in the 21st Century: Survey of Recent Child Welfare Reforms and How It Impacts Black Kinship Care Families, 12 J. CHILD & FAM. ADVOC. 1 (2013).
Available at: UNM-DR
Why They Won't Take the Money: Black Grandparents and the Success of Informal Kinship Care, 10 ELDER L. J. 153 (2002).
Available at: UNM-DR
Reports
Regarding Docket No. FR-6111-P-02, HUD's Implementation of the Fair Housing Act's Disparate Impact Standard (Federal Register HUD-2019-0067-2823, October 18, 2019) (co-authored with Alfred D. Mathewson et al.).
Available at: Federal Register & UNM-DR
Presentations
Who is Caught up in New Mexico's Criminal Justice System? Considering Race, Ethnicity, Class, Gender, University of New Mexico Libraries (March 2020).
Arcing Towards Justice: Dr. King's 2020 Vision, Sandia National Laboratories and Kirtland AFB Martin Luther King Jr. Observance (January 2020).
Available at: UNM-DR
Improving Retention and Graduation Rates in a Hispanic-Serving Institution, Reinvention Collaborative RC20/20 Higher Education Conference (2018).
Available at: UNM-DR
Law School News