Law School professors and alumni chosen to serve on state racial justice commissions
August 6, 2020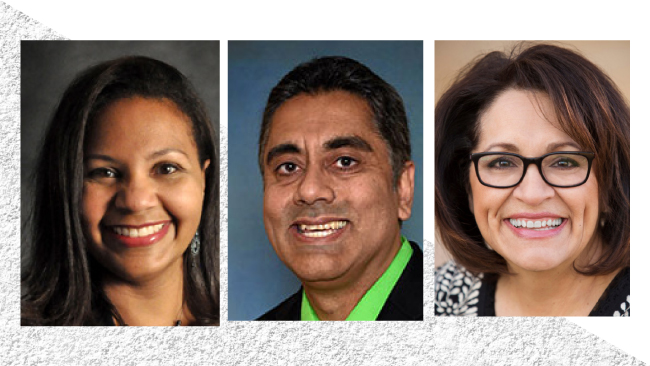 Two current UNM School of Law professors and one professor emerita have been selected to serve on two separate groups dedicated to racial justice in New Mexico.
The state Supreme Court on Thursday announced the establishment of the Commission on Equity and Justice, a group which will study issues related to race and bias in the state's justice system and promote diversity among judges and judicial employees. 
The detailed framework of the commission will be developed by a steering committee which includes UNM Law School professors Sonia Gipson Rankin and Vinay Harpalani. The work of the steering committee, which is chaired by Justice C. Shannon Bacon, will include "analysis of data, education for judges and court staff regarding implicit bias, the creation and improvement of court policies relating to diversity and inclusion, and a commitment to nominate more diverse individuals to serve on the bench," the Court said.
Other members of the steering committee are Torri Jacobus, UNM Law alumnus and Taos Pueblo Tribal Court Judge David Eisenberg, and UNM Law alumna and NM Court of Appeals Judge Briana Zamora. 
"The Judiciary needs to join other government entities in examining how racism and bias affects our system and our work," said Justice Bacon. Justice Bacon said the steering committee will make recommendations to the Supreme Court in the fall about the work, goals, and structure of the commission, including its membership. After receiving the committee's proposals, the Court will issue a formal order on the commission.
On Friday, Governor and UNM Law alumna Michelle Lujan Grisham announced the membership of the Governor's Council for Racial Justice, an advisory group tasked with counseling the administration and monitoring state institutions, holding them accountable for taking action to end systemic racism and ensure that all persons receive fair and equal treatment and opportunities.
Professor Emerita Margaret E. Montoya, of Albuquerque, who taught at the Law School for twenty years and also previously served as the senior adviser to the University of New Mexico Health Science Center Chancellor, was named to the Health Subcommittee of the Council for Racial Justice.
"As I said at the outset of this overdue global movement for racial justice, we must not let the passion of this moment fade," Gov. Lujan Grisham said. "In New Mexico, our multicultural heritage is both an opportunity to move forward and a mandate to reflect on where we've come from as a means of shaping an equitable future for all. My commitment is that my administration will listen first. I am grateful to the New Mexicans who have volunteered their time and energy to this work. We have the opportunity to lead as a state. I am confident we will seize the moment."