Academics

Students choose between the two available three-credit courses which are scheduled for 9am and the two two-credit courses which start at 11:30am, for a total of two courses and five semester hours of credit.
Course Schedule

Class Dates for 2023 
Optional meetup and informal orientation: Tue, May 30
First class day and Orientation: Wed, May 31
Last class day: Tue, June 27
Reading day: Wed, June 28
Final exams: Thu, June 29
Class Times
Classes meet Mondays through Thursdays at the following times:
International Business Transactions, 9am-11:20am
International Human Rights and Economic Actors, 9am-11:20am
Overview of European Union Law, 11:30am-1pm
International Law of Art & Cultural Heritage, 11:30am-1pm
Course Descriptions
International Business Transactions
Professor: Stewart Paley
Course Description: International Business Transactions teaches how to do business across country borders, whether that business be buy/sell arrangements, franchises and subsidiaries, or foreign direct investment. IBT is also about culture, people, and differing law and custom, and that is where it really gets fun. We will learn how to do business internationally (which will reinforce how to do business deals here in the U.S.), what to watch out for, how to actually get a deal done, and how to help your client succeed in the international arena.
We will look at cases, hypotheticals, background stories, and a mainstream non-fiction best-seller that will surprise you in many ways. This book may even change the way you think about the world and your everyday shopping habits. In class, we will do whole-class, partner, and smaller group work, including role plays, debates, and negotiation exercises that will help you learn and better understand IBT.
No business experience or prerequisite courses needed.
Credit hours: 3
Textbooks:
Daniel K. Chow and Thomas J. Schoenbaum, International Business Transactions (Aspen Casebook), 3rd edition, 2015)
Rose George, Ninety Percent of Everything: Inside Shipping, the Invisible Industry that Puts Clothes on Your Back, Gas in Your Bar, and Food on your Plate (2013).
---
International Human Rights and Economic Actors
Professors: Maryam Ahranjani and Paul Figueroa
Course Description: Human rights have been a significant focus of international economic diplomacy for decades. Human rights considerations have had significant ramifications for businesses, as well as for the lawyers who counsel them. The idea that economic actors have human rights responsibilities to governments and individuals has steadily gained acceptance. International organizations, including the United Nations (UN), have adopted standards and principles delineating the human rights obligations of business actors. A crucially important development was the UN Human Rights Council's endorsement of Guiding Principles on Business and Human Rights in June 2011, which has had a significant impact on government and business policies. This course explores the legal and quasi-legal (or policy) frameworks developed to hold economic actors accountable for business practices that violate or have an impact on human rights. The exploration includes learning about the legal and policy frameworks governing a range of contemporary issues such as forced or inadequately compensated labor, environmental justice, Internet privacy, "hate speech" on social media, and the right to health. 
Credit hours: 3
Textbook: There is no required textbook for this class; instead, students will be assigned selected readings, including the UN Guiding Principles on Business and Human Rights, the UN Guiding Principles Reporting Framework, and related documents.  
---
International Law of Art and Cultural Heritage
Professor: Michelle Rigual
Course Description: This course takes advantage of the program's setting in Madrid by using the city's monuments and museum holdings to launch discussions about art and cultural heritage in an international legal context. We will consider the definitions and ownership of art and cultural heritage; the phenomena of looting, smuggling, renaming, removal, and destruction; and the options for recovery and repatriation. In each case, we will examine the history of the controversy then look to the laws of the countries involved as well as relevant international treaties and legal instruments. Each student will be required to make several presentations in this class, both individually and as part of a group. 
Credit hours: 2
Textbook: There will be a reading packet that you will purchase onsite in Madrid for approximately $30. Also, for class presentations you will need to have a USB flash drive that can be used with the classroom PC's USB A port.
---
Overview of European Union Law
Professors: Bruno Aguilera Barchet, María Pilar Trinidad, Angelines Cano Linares, Yolanda Dutrey Guantes, and others
Course Description: This course provides students a general introduction to European Union law. The course starts with the history of European integration, giving students the opportunity to compare U.S. history and the history of the EU. The course then tackles EU values such as human rights, freedom, and democracy. Next, business aspects of the EU are considered from a practical point of view. Finally, the course will cover international dispute resolution issues in the context of the EU. For example, students will learn which European country's courts have jurisdiction to hear a case, what law that court will apply, what remedies the court may award, and how a judgment given in one country may be enforced in another. The course will include a site visit to a Spanish law firm as well as to the European Association of Arbitration.   
Credit hours: 2
Textbook: TBD
Maryam Ahranjani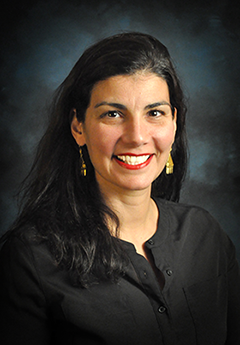 Maryam Ahranjani is the Ronald & Susan Friedman Professor of Law at the University of New Mexico School of Law. An award-winning scholar and teacher, Professor Ahranjani's writing and teaching focuses on Constitutional Rights, Criminal Law, Constitutional Criminal Procedure, and Education Law. Professor Ahranjani is fluent in spoken Persian (which she learned at home from her Iranian-born parents), and written and spoken Spanish, which she has used in her work in Guatemala, Chile, and Argentina. To learn more about Professor Ahranjani, please see her full faculty profile.
Bruno Aguilera Barchet

Prof. (Catetrático), U. Rey Juan Carlos, Facultad de Ciencias Jurídicas y Sociales. Undergraduate law degree with Premio Extraordinario and Ph.D, U. Complutense de Madrid. Current Director of the Instituto de Estudios Jurídicos Internacionales (Institute of International Legal Studies) at U. Rey Juan Carlos. Visiting Researcher, Harvard University. Former Vice-President  of U. Rey Juan Carlos and former Dean of its Facultad de Ciencias Jurídicas y Sociales. Visiting Professor at the Center of European Legal History at the U. de Paris (Paris XII). Member of the Academic Council of the Center For European Studies, the official think tank of the European People's Party funded by the European Parliament.
Paul Figueroa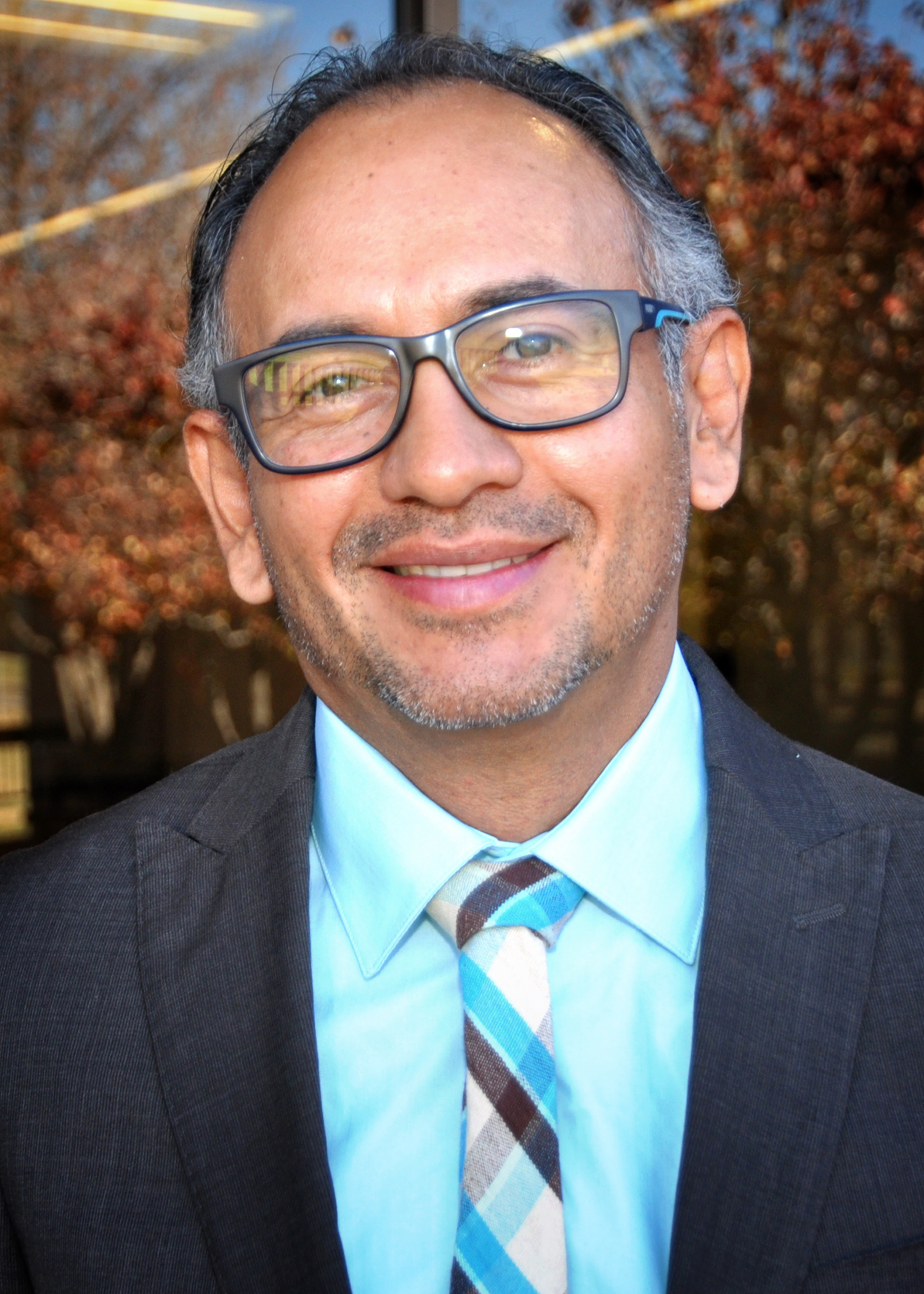 Prof. Figueroa brings extensive private and public sector practice experience to the classroom. Most recently he served as a foreign service officer and the inhouse-counsel for the U.S. Agency for the International Development in Guatemala. Prior to that appointment, he worked as an attorney adviser to various regional and technical bureaus at the USAID/Washington office. Professor Figueroa served for five years as the chair to the Fund Council Group on Intellectual Property for the Consultative Group of International Research Centers to ensure responsible management of intellectual property assets that resulted from public funding. In the private sector, Professor Figueroa served as manager for the Customs and Trade Compliance Group at Deloitte Consulting LLP in Chicago and as a senior associate in the Washington, DC office of New York City-based Grunfeld Desiderio, where he represented foreign corporations involved in trade disputes and won over 90% of appeals before the U.S. Court of International Trade.
 Yolanda Dutrey Guantes

Prof. (with Tenure), U. Rey Juan Carlos, Facultad de Ciencias Jurídicas y Sociales. Undergraduate law degree and Ph.D (focus on private international law); Masters in European Community Law and Masters in Law Practice. Teaches courses on private international law and commercial law. Research interests include international contract law, international civil procedure, and international family law. Past coordinator of Erasmus and Seneca International Relations programs at the Facultad de Ciencias Jurídicas y Sociales at U. Rey Juan Carlos. Permanent collaborator with the Madrid Bar Association, teaching international law courses.
Angelines Cano Linares

Prof., U. Rey Juan Carlos, Facultad de Ciencias Jurídicas y Sociales. Undergraduate law degree and Ph.D (public international law), U. Rey Juan Carlos. Teaches courses on public international law, international relations, and European Union law. Director of the Ibero-American International Relations masters degree program at U. Rey Juan Carlos. Deputy Director of the Centro de Estudios de Iberoamerica (Ibero-American Studies Center) at U. Rey Juan Carlos. Research interests include the UN Security Council, international investments, international migration, economic integration organizations, and Latin American legal systems.
Nathalie Martin

Professor Martin joined the UNM law faculty in 1998. Her research focuses on consumer law and bankruptcy, as well as elder law. Her recent research focuses on high-cost loans, such as payday, title, and installment loans, as well as the Mindfulness in Law movement. She is the author of several other books and dozens of law review articles, she holds what is thought to be the only endowed chair in the country dedicated to consumer law issues. Professor Martin teaches commercial and consumer law, as well the Economic Development (Business and Tax) Clinic at the UNM School of Law. She is a regular blogger at Credit Slips, the nation's leading blog on debt and credit issues. She also is a former resident scholar at the American Bankruptcy Institute. In that capacity, she has appeared on CNN, ABC, CNBC and other television networks. She has been quoted in the Wall Street Journal, the New York Times and many other newspapers. Professor Martin co-taught a course in the 2014 Madrid Summer Law Institute and both co-directed and co-taught in the 2016, 2018, and 2022. View Professor Martin's full faculty profile.
Stewart Paley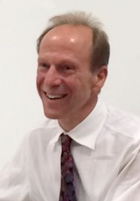 Stewart Paley, Adjunct Professor of Law, University of New Mexico School of Law; J.D., Temple University. Professor Paley is an accomplished business and commercial law attorney, with over ten years of experience in private practice. He was a law firm partner at Klehr, Harrison, Harvey, Branzburg and Ellers, where he specialized in commercial lending and debtor-creditor law. He is a member of the Massachusetts, New Hampshire, New Mexico, and Pennsylvania bars. At UNM he has taught business associations, secured transactions, and international business transactions. He combines traditional law school learning methods with role plays, negotiations, contract drafting, and other real-world experiences to help students learn both the theory and the nuts and bolts needed to become skilled attorneys. Professor Paley co-taught a course in the 2014 Madrid Summer Law Institute and both co-directed the Institute and and co-taught in 2016, 2018, and 2022.
Michelle Rigual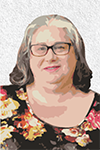 Michelle Rigual is the Associate Dean for Information Services and Operations at the University of New Mexico School of Law. A recognized leader in the areas of assessment and library innovation, she has taught and served in various administrative roles at law schools across the country, including Texas A&M University School of Law, Arizona State University College of Law, and Capital University Law School. Professor Rigual regularly teaches Introduction to Legal Research and Applied Legal Research as well as research seminars. She taught in the Madrid Summer Law Institute in 2022 and is thrilled to return to the program this year.
María Pilar Trinidad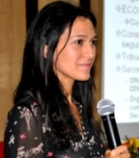 Prof., U. Rey Juan Carlos; Undergraduate law degree and Ph.D, University of Extremadura (first in class); post-graduate studies in human rights at the Instituto Bartolomé de las Casas at the U. Carlos III of Spain; Academic Secretary at the Ibero-American Studies Institute at U. Rey Juan Carlos. Former Legal Adviser in the International Law Department at the Ministry of Foreign Affairs and Cooperation of Spain. Former Professor at the U. de Extremadura. Research interests include public international law, human rights law, international organizations, the law of international treaties, and Latin American studies.
Onsite Program Administrator
Inés García Saillard

Degree in Anthropology, University of Barcelona; Degree in Hispanic Linguistics, University of Distance Education.  Currently studying English Linguistics.  Responsible for all administrative duties of the Instituto de Estudios Jurídicos Internacionales (Institute of International Legal Studies) at U. Rey Juan Carlos. Personal assistant to Prof. Bruno Aguilera, Director of the Institute of International Legal Studies. Fluent in English, Spanish, French, Catalan, and German.
Field Trips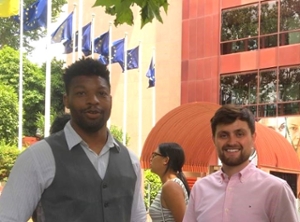 There will be at least two field trips during the Madrid Summer Law Institute. Tentatively, one of these visits will be to the Madrid Bar Association and the other to the Madrid Office of the European Parliament. Dates and times of these visits will not be finalized until after arrival in Madrid.
You will be expected to dress professionally for visits to legal institutions so please bring at least one outfit that is appropriate for these events.
Academic Policies
Class Attendance
The criteria for accreditation formulated by both the American Bar Association and the Association of American Law Schools require that students regularly attend classes. The policy of the UNM Law School and the Madrid Summer Law Institute requires attendance in all classes, and faculty members who wish to take attendance on a daily basis are encouraged to do so.
In the case of a prolonged illness or emergency, students should contact the Director of the Madrid Summer Law Institute, who will notify the student's instructors. The student is responsible for arranging for missed assignments and completing all requirements of the course.
The policies of the Institute require that students attend orientation, attend all classes, and depart only when exams are concluded. Late arrival or early departure may result in disannulment, a failing grade, or combination of both. If there is an unexpected, serious emergency that will affect a student's arrival or cause an early departure, the student should discuss this problem immediately with the Director.
Classroom Conduct
The instructor is responsible for all classroom conduct, behavior and discipline. Any action that would disrupt or obstruct an academic activity is prohibited.
Students are expected to be prepared for all classes.
Use of Institute classrooms or other facilities during scheduled activities is limited to enrolled students and university personnel. Use of these facilities during nonscheduled periods should be arranged with the Director of the Madrid Summer Law Institute.
Smoking, eating and drinking are prohibited in all classrooms and teaching laboratories.
Digital Audio/Video Recording of Classes
A student may record a class solely at the discretion of the professor. A student should obtain permission in advance from the professor
Dishonesty in Academic Matters
Each student is expected to maintain the highest standards of honesty and integrity in academic and professional matters. The University of New Mexico, the UNM School of Law and the Institute reserve the right to take disciplinary action, up to and including dismissal, against any student who is found guilty of academic dishonesty or otherwise fails to meet these standards.
Academic dishonesty includes, but is not limited to, dishonesty in quizzes, tests or assignments; claiming credit for work not done or done by others; and nondisclosure or misrepresentation in filling out applications or other university records.
Students at the Madrid Summer Law Institute are governed by the Student Code of Conduct.
Anonymous Exam Grading
The Madrid Summer Law Institute uses an anonymous grading system. During the program, each student gets a unique number which is used in lieu of the student's name on each exam. The Student Code of Conduct governs all aspects of this process.
Exams are administered by the support personnel of the Madrid Summer Law Institute who give out exam numbers and blue books to students.
Late Examinations
Examinations may not be taken early. No examination may be taken before the time and date specified on the examination schedule.
The Director may permit a student to take the exam late for good cause, such as illness at the time of the exam. In such a case, the exam must be taken as soon as the student is well enough to take it and no later than two weeks after the regularly scheduled time. Students who need to request a late examination should maintain their anonymity with the professor; see the Handbook for more information.
If a student takes an examination late, he or she will receive the grade of credit, C-, D+, D, D-, or F. No other letter grades will be given for a late examination.
A student who fails to schedule and take a makeup examination in an emergency situation shall be given an "F" for that course.
Retention of Examinations and Student Access
The University of New Mexico School of Law will retain all student examination materials for a period of one year. Students are encouraged to review their own exams and discuss them with their professors if they have any questions.
For more information regarding grading policies, see Grading Policies.
Grading
The grades awarded in the courses are indicative of the quality of work done: A=Excellent, B=Good, C=Satisfactory, D=Barely Passed, F=Failed. Teachers may give pluses and minuses in awarding the final grades. The final grade for each student is determined by the teacher teaching the course. The grades for each course are reported to the home law school of the student. Schools have different policies with respect to whether the assigned grades affect GPA, class rank, honors, awards, etc. The student should check with his or home school regarding how it will handle grades reported by the Institute.
Applicants for whom credit or a grade is important are advised to secure a prior written commitment from their schools.
It is unlikely that participation in the courses offered by the Madrid Summer Law Institute may be used to accelerate graduation. Students interested in acceleration should consult their home law schools before applying to the Institute to review the issue in light of ABA Standard 303, Interpretation 304-4.
Grading Options
Because law professors must grade all students in a course using the same grading system, students do not have the option to take a particular course on a "Credit/No Credit" basis. At the conclusion of the program, the professor for each course will assign a letter grade for each student. Letter grades of A through F with pluses and minuses will be used. If you have any questions, you should check with your law school prior to joining the program. If your law school has any questions on how we will grade your examinations or papers, please have them contact the Director prior to the beginning of the program.
In addition, a student may register for a course as an auditor, without credit, with prior approval of the Director and the instructor.
The grades awarded in all courses are indicative of the quality of work done. Their significance in most courses at the Institute is as follows:
AUDIT
Audit is recorded for completion of enrollment in an audited course. No credit is earned for an audit grade option.
W
Used for approved administrative withdrawals after June 6, 2018.  Courses given a grade of W typically are excluded in the calculation of the grade point average.
You should check with your home school regarding how it will handle grades reported by the Institute.
Grading Practices
Law professors must grade all students in a course using the same grading system. The grading systems for the Institute is a letter grade using pluses and minuses.
Submission of Grades by Faculty
Faculty shall submit grades for all courses and papers to the School of Law Registrar within 20 days of receiving finals for grading.
The grades will then be recorded on University of New Mexico transcripts. Students should order from the University of New Mexico Office of the Registrar a transcript to be sent to their school, when grades are posted.  https://registrar.unm.edu/transcripts/request-online.html
The Director may make exceptions to the above policy for sufficient reason. (For example, large classes, sickness, research projects, or community service.)
Please note: Acceptance of credit and its use for early graduation is at the discretion of each student's law school. Because each course meets the ABA requirements, most ABA accredited law schools will accept the credits. However, it is unlikely that the credit may be used to accelerate graduation.  Applicants for whom credit is important are advised to secure a written commitment from their law schools.
Student Objection to Grade
Students with questions about a grade should maintain their anonymity.  Students should talk with the Director about grade matters in classes the Director is not teaching.  In classes the Director is teaching, students should contact the UNM SOL registrar or 505-277-3649.  The Director or Registrar will discuss the matters with the instructor. If the matter is not thereby resolved, the following procedure is to be followed:
The student may formally question a grade by filing a grade appeal to the UNM School of Law Faculty. The Dean of the UNM School of Law will then decide whether to refer the matter to the student's home institution or to have the appeal reconsidered by two or more appointed faculty from UNM. The UNM School of Law will handle most grade appeals.
Appeals may only be filed for an alleged mathematical error in grading.
Students must appeal a grade within 60 days after receiving the final grade.