Arrival in Madrid
Transportation from the Airport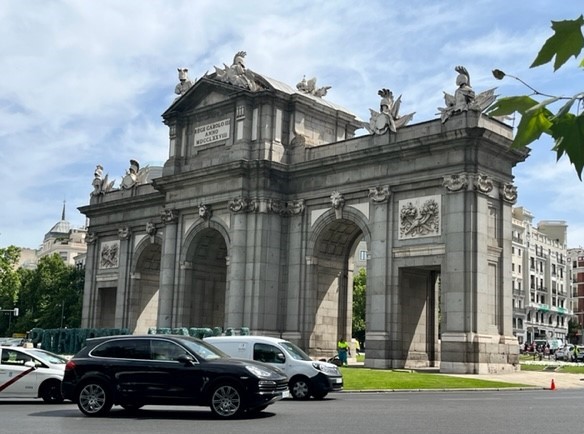 Your flight will arrive at Adolfo Suárez Madrid–Barajas airport. After you land, there are several options to get to your hotel or apartment. 
Taxi (the recommended option)  Based on feedback from students, we recommend you take a taxi upon arrival so that you can meet Madrid without the unnecessary stress of identifying the right metro/bus, wrestling with luggage on busy public transportation, figuring out ticket machines and fare options, and navigating from a metro/bus stop to your apartment -- all while jetlagged.
Taxis are abundant and safe in Madrid. Each airport terminal departure area has a taxi line. Go to the first car in line and tell the driver your destination. If you don't speak Spanish, write the destination on a paper and show it to the driver.
The price for a taxi ride from the airport to the center of Madrid is a flat rate of 30 euros and the fare to Vicálvaro should be somewhere around 20-30 euros. Note that people generally don't tip taxi drivers in Madrid, although it is common to round up to the nearest euro.
Metro (the least expensive option)  There are two metro stations in the airport, one serving Terminals 1, 2, and 3, the other serving Terminal 4. The airport is on Line 8 (the pink one). To use the metro you will need to buy a single ticket and an airport supplement. This will cost 4.5-6 euros, depending on the location of your destination. Ticket machines in the station (in English) accept cash (euros), debit, and  credit cards. Once you are on the metro, follow the Madrid Metro Map to your destination. It is likely you will need to transfer twice to reach your hotel or apartment. 
Arrival Notification
Please check in on the day you arrive to let us know that you are in Madrid. Email madrid@law.unm.edu and send a What's App to: 011-34-691-347-675.
Weekend Arrivals
As you prepare for the program to get underway, you will find many neighborhood stores closed on weekends. Sundays in particular are reserved for long, leisurely meals and spending time with family and friends so you will find madrileños packing into tapas bars and sunny terraces to enjoy food and drinks in good company. Relax and join in, Sunday is the perfect time to leisurely recover from jet lag, to visit a park or museum, or to enjoy a tapas crawl. Larger chain grocery stores and department stores are open every day.