How to Apply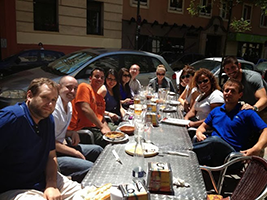 Madrid Summer Law Institute students enjoy tapas together.
Eligibility
The Institute welcomes applications from law students enrolled at any law school in the world, graduates of those schools, and graduate students or persons holding graduate degrees in related disciplines such as international relations, business, and Spanish. Students seeking credit toward a J.D. degree must be enrolled in a state-accredited or ABA-accredited law school.
Application Fee
Applications must be accompanied by a $125 application fee. Your application is not complete until the fee has been submitted. The submission deadline is February 1, 2023.
Our Summer 2023 program is full!
As of Dec. 16, 2022, all the slots for Summer 2023 have been filled. Please let us know at madrid@law.unm.edu if you would like to be placed on a wait list.
We hope you either find another program that suits you or consider joining us in 2024!

Application Fee Refunds
The application fee is non-refundable unless course credit is denied by a student's law school or a student is unable to secure necessary financial aid.
Questions About Your Application
If you have questions about the application, please contact the Program Coordinator.