Madrid Summer Law Institute How to Apply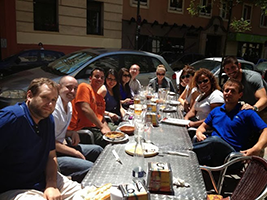 Madrid Summer Law Institute students enjoy tapas together.
Application for admission may be made at any time. However, because our capacity is limited, early application is advised.
Applications must be accompanied by a $100 application fee. This fee may be paid either by credit card on our secure website or by mailing a check (payable to "UNM School of Law") to the following address: 
Attn:  Courtney Love
UNM School of Law
1117 Stanford NE
MSC11 6070
1 University of New Mexico
Albuquerque, NM 87131-0001
The application fee is not refundable if accepted, unless course credit is denied or a student is unable to secure necessary financial aid by date of withdrawal deadline.
Click here to apply to the Madrid Summer Law Institute
If you have any questions about the on-line application, please contact Courtney Love at (505) 277-9035 or by email at madrid@law.unm.edu.