Finding Housing
As you begin your housing search, we invite you to explore Albuquerque and its many dinstinct neighborhoods. Most incoming students will have their accommodations finalized by early July, especially if you are looking for accommodations close to the Law School's campus.
Where do most students live?
Albuquerque is composed of a variety of neighborhoods popular with our students which are easily accessible to campus. The most popular neighborhoods to live in for our student body include: Downtown, Midtown/University area, Nob Hill, the Northeast Heights, North Valley, the West Side, and the Foothills.
For detailed information on these and other neighborhoods around the city, visit Albuquerque.org.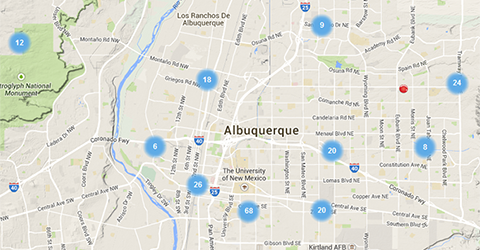 Housing Options
On-Campus Housing
UNM Residence Life and Student Housing (RLSH), along with its partner American Campus Communities (ACC), offers a wide variety of housing accommodations for the entire University community; from traditional residence halls, suites, and apartment style living.
For law students who choose UNM housing, most prefer to live in the family and graduate apartments or the apartment style living located on the University's South Campus rather than the traditional dorm and suite rooms.
Off-Campus Housing
The majority of law students live off campus in houses or apartments. Depending on specific needs, students live within walking or bicycling distance of the UNM School of Law, and others commute from across the Albuquerque metropolitan area.
Finding Off-Campus Housing
Search the UNM Off-Campus Housing List which is maintained by the UNM Student Activities Center.
Connect with other incoming UNM Law students on Facebook.
Search Craigslist, Trulia, Aparments.com, Zillow and Apartment List for listings around town.
If you have any questions about housing in the Albuquerque area feel free to contact the Admissions Office team . We are happy to talk with you about the different neighborhoods and locations that will fit your needs while in school.