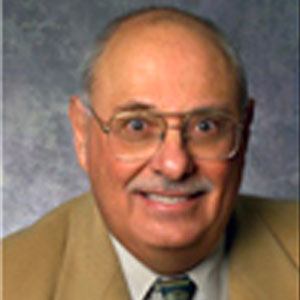 Robert J.  Desiderio
Professor Emeritus
Education
B.S. 1963, St. Joseph's University (Pennsylvania)
J.D. 1966, Boston College
Member of the District of Columbia and New Mexico Bars
Profile
Robert Desiderio joined the UNM law faculty in 1967. He served two terms as dean, from 1979-1985 and from 1997-2002. He now teaches each semester as an professor emeritus
He presently is vice-chair of the Educational Trust Board. He co-chaired the New Mexico Public School Capital Outlay Task Force and chaired the New Mexico Tax Study Committee. From 2003-2007 he was the Executive Director to the Con Alma Health Foundation. Also, while on leave from the law school in the late 1980s, he was director, and chair of the tax section, at Rodey, Dickson, Sloan, Akin & Robb, one of New Mexico's largest law firms.
Desiderio served as UNM's faculty representative to the National Collegiate Athletics Association and the former Western Athletic Conference. He also was the university's acting vice president for academic affairs.
As dean, he worked tirelessly to improve the school. He led a massive fund-raising effort to build the $10 million Frederick M. Hart Addition, which opened in the fall of 2002, nearly doubling the size of the law school and a renovation of the older building. During his first term as dean, Desiderio increased the number of faculty, improving the student-faculty ratio. He worked to increase faculty salaries and established a successful annual fund-raising program.
His scholarship focuses on tax-exempt organizations, state and local taxation, personal property leasing, remedies, taxation of insular areas, and sports law. Courses he teaches are Contracts, Tax, Remedies, Commercial and Corporate Law.
Desiderio was a consultant to Southern New England School of Law. In 1978, he was a special legal consultant to the Commonwealth of the Northern Mariana Islands Legislature. In the 1990s, he returned to the Commonwealth as director of a pre-law program and as a consultant to the Director of Finance. He also taught in the pre-law program in 2005, 2010 and 2014.
Before joining the UNM law faculty, he worked for the Internal Revenue Service in Washington, D.C.
Desiderio and his wife, Anne, have raised eight children and have cared for 110 foster children during the past 20 years.
Publications
Books & Book Chapters
Contributions to Charities, Current Legal Forms with Tax Analysis (Rabkin & Johnson eds., 2013).
Available at: Law Library
NonProfit Organizations Law and Policy (2010) (co-authored with Marilyn E. Phelan).
Available at UNM-DR
Non-Profit Corporations, Current Legal Forms with Tax Analysis (Rabkin & Johnson eds., 2001).
Available at: Law Library
Provisional Remedies: Preliminary Injunctions and Temporary Restraining Orders, Walden's Civil Procedure in New Mexico (Occhialino et al. eds., 1996).
Available at: Law Library
Planning Tax Exempt Organizations (1983) (co-authored with S. Taylor) and Supplement (1995).
Cases and Materials on Contracts (1994) (co-authored with Frederick Hart) (UNMSOL textbook).
Available at UNM-DR
Equipment Leasing, Forms and Procedures Under the Uniform Commercial Code (Hart & Willier eds., 1990).
Available at UNM-DR
Not-For-Profit Activities, Bender's Federal Tax Service (1989).
Legal Problems in Community Economic Development (1970) (UNMSOL textbook).
Uniform Commercial Code Reporter-Digest (1969).
Available at UNM-DR
Articles
The Law School Library: Its Function, Structure, and Management, 73 SPECIAL LIBRARIES 292 (October 1982).
Available at UNM-DR
The Profitable Non-Profit Corporation Business Activity and Tax Exemption Under Section 501(C)(3) of I.R.C., 1 N.M. L. REV. 563 (1971).
Available at UNM-DR
The New Mexico Professional Corporation, 9 NAT. RESOURCES J. 591 (1969) (co-authored with Ault & Smith).
Available at NRJ
The Community Development Corporation, 10 B.C. INT'L & COMP. L. REV. 217 (1969) (co-authored with Sanchez).
Available at UNM-DR
Article 1: General Provisions (Comment) of Uniform Commercial Code Annotations, 7 B.C. L. REV. 94 (1965) (co-authored Black, Goldberg & Kotarba).
Available at UNM-DR
Article 9: Secured Transactions (Comment) of Uniform Commercial Code Annotations, 7 B.C. L. REV. 120 (1965) (co-authored Black, Goldberg & Kotarba).
Available at UNM-DR
Note, Administrative Law-Internal Revenue Code-Proof Required to Open a "Closed Year," United States v. Powell, 6 B.C. INT'L & COMP. L. REV. 922 (1965).
Available at UNM-DR
Note, Secured Transactions-After Acquired Property Clause-Priority to "Equipment Under the Uniform Commercial Code," United States v. Baptist Golden Age Home, 6 B.C.INT'L & COMP. L. REV. 367 (1965).
Available at UNM-DR
Essays
Twenty Years Later, 34 UNIV. TOLEDO L. REV. 49 (2002).
Available at UNM-DR
New Mexico Taxes, 32 N.M. L. REV. 351 (2002).
Available at NMLR
Letter from the Dean, 11 N.M. L. REV. (1981).
Available at NMLR
News