Professor Desiderio joined 14 tax law professors in internet sales tax issue
January 9, 2017 - Tamara Williams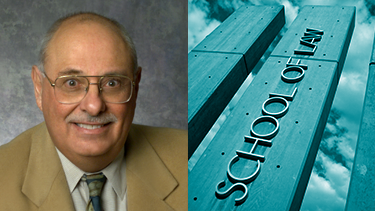 An advocate for fair and effective tax administration, Emeritus Professor of Law Robert Desiderio is known for his expertise in tax law.
In November, he was one of 14 tax law faculty who filed an amicus brief in Direct Marketing Association v. Brohl("Direct Marketing II") in support of a conditional cross-petition by the State of Colorado seeking reversal of Quill Corp. v. North Dakota, a 1992 Supreme Court case concerning the imposition of use tax on out-of-state sellers. The amicus brief argued that Quill should be revised and states should be able to impose sales or use taxes on interstate sales.
"Ultimately, the case got decided on a different issue," said Desiderio. On December 12, the Supreme Court denied a petition by the Direct Marketing Association and the conditional cross-petition filed by Colorado.
The result means the Colorado reporting and notice requirement remains in full effect.
Desiderio added, "In 2015, in Direct Marketing I, Justice Anthony Kennedy opened the door. Although he agreed with the majority, he argued that Quill, decided some 25 years ago, doesn't apply in current marketing conditions. He wrote a separate opinion to say that the court should revisit the 1992 case."
As a result of the Supreme Court's denial of certiorari, states can now require that out-of-state retailers report all purchases by in-state buyers allowing the states to impose and enforce use taxes. A recent Albuquerque Journal story indicated that New Mexico may be considering such an approach.