Professor Robert Desiderio Beams into Kosovo Classroom
November 22, 2011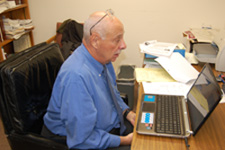 It's Wednesday morning and Emeritus Professor Robert Desiderio is getting ready for his weekly lecture on Business Economics for Lawyers. To prepare, he turns on his laptop and positions himself in front of the computer's camera.
When the time comes, he addresses the 35 students in the class, all enrolled in a cutting-edge one-year LL.M. program at the University of Pristina in Kosovo. For two hours, Desiderio relies on Skype to connect him to the classroom thousands of miles away.

Sometimes, Emeritus Professor Ted Parnall (`67) checks in to see how things are going. Parnall, after all, is partly responsible for the new program at the Kosovo university. In 2010-2011, he helped design the innovative international teaching experiment as part of a commercial law project put into place by Washington, D.C.-based Checchi and Company for the United States Agency for International Development.
"Legal education in Kosovo has followed a rote lecture style with not much interactive teaching," he said. "This program is intended to fill that vacuum, so that graduates will have practical legal skills to contribute to the Kosovo business community."
In the class, Desiderio talks about accounting, basic business economic principles and financial statements. Students, all required to have an English proficiency, are encouraged to ask him questions. A Kosovar professor is co-teaching the 15-week course and is available to assist the discussion. Desiderio also encourages students to email him questions in between classes.
In light of the prohibitive cost of textbooks, Desiderio discovered an on-line accounting textbook that includes work sheets so he can keep track of his students' progress.
"The most exciting part about this is being able to teach internationally without being present," he said. "It's also exciting to do so with students who have had little exposure to the subject matter." Even so, Desiderio looks forward to conducting an in-classroom lecture in December, when he will get to meet his students in person.
Given how well this distance-learning experiment is working, he also envisions a day when students at the UNM School of Law could be the beneficiary of the expertise of international legal scholars.
For Parnall, his excitement comes from seeing his colleague's success in the Kosovo classroom. "To witness this global education program taking off has been interesting and rewarding."