Post a Job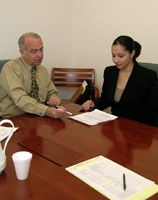 Looking to recruit a University of New Mexico School of Law student or alumni for part- or full-time position? 
We've made it easy for you to advertise your immediate openings to a broad audience of current students, recent graduates and alumni. Simply complete our convenient online job announcement form.
This form allows employers to describe job openings and request responses from students or alumni. Depending on the nature of the request, information submitted on the form is published on the Law School's password protected CONNECT website and by email to students and alumni, as applicable.
If you prefer to have direct access to CONNECT, you may register now. Registration will provide more immediate posting of opportunities with your office as well as the ability to collect application materials online, promote your office to our students and alumni through a personalized employer profile, and more.
You might also be interested in these additional services our office provides employers:
Questions?
Contact the Office of Career Services for more information.