Eighty high school students learn about the Constitution at UNM Law School on Sept. 22
October 24, 2017 - Tamara Williams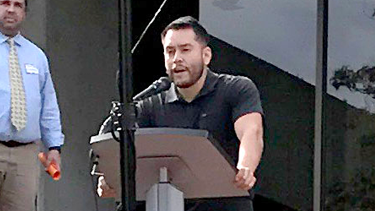 For the past four years, the UNM chapter of the Marshall-Brennan Project has celebrated Constitution Day by bringing high school students to the law school to learn more about how the Constitution impacts their lives, as well as the role of lawyers and law schools in promoting Constitutional values.
This year, UNM Marshall Brennan Project co-directors Preston Sanchez (Class of 2012) and Matt Bernstein (Class of 2014) brought 80 high school students from West Mesa, South Valley Academy, Valley High School, ACE Leadership Academy, Native American Community Academy (N.A.C.A.) High School, and Siembra Leadership Academy to celebrate Constitution Day on Friday, September 22.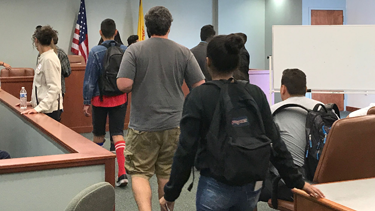 The students also learned about the path to law school and about participating in the 2018 National Marshall-Brennan Moot Court Competition held in Boston, Massachusetts.
Christian Tafoya, a student from Valley High School, said it was a "life changing experience" because he got to see how UNM Law students work and the way they are learning to become lawyers.
"The Marshall-Brennan Project embraces the continuing need to educate young people about the Constitution," says Professor Maryam Ahranjani, faculty advisor to the UNM Marshall-Brennan Project.  "We can never be complacent about activating our rights and must remain vigilant that American constitutional values of inclusion, equality, and opportunity pervade government institutions like public schools and universities."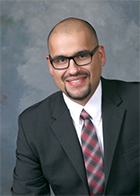 The day included a section on Know Your Rights, using the example of automobile police encounters. Students learned that the Fourth Amendment protects their right against unreasonable searches and seizures, and that the Fifth Amendment protects your right not to self-incriminate. After an introduction, a true/false section, and learning the rules, the students engaged in role play where a law school student played the officer.
The high school students also toured the law school, and heard from Javier Martinez (Class of 2010), the New Mexico State Representative from District 11, during lunch.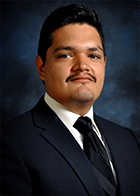 Cruz Lopez (Class of '19), a teaching fellow for the Project, says Constitution Day and similar experiences in civics are important.
"Constitution Day is not only important because of the substantive knowledge that we impart, but also because we show the students that attend what can be," says Lopez. "I remember taking a trip to Washington, D.C. as part of a high school civic education program and being exposed to the history, culture, and even just being around ​lawyers and judges made me think that I could do it too. I think the students that come to UNMSOL get that exposure in a surrounding that is close to them and hopefully, that means something to them."