Professor Maryam Ahranjani Honored at the Education Law Association's 65th Annual Conference
January 14, 2020 - Sal Guardiola II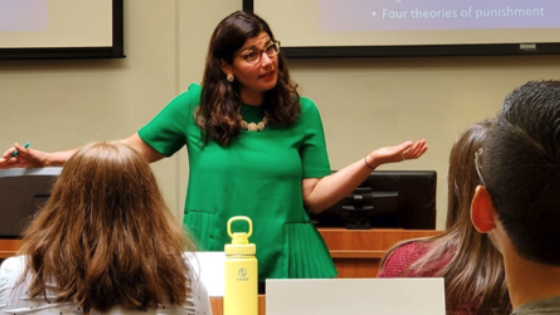 New Mexico's law school has drawn a line in the sand and declared its commitment to serving New Mexico's most vulnerable children.  Embracing that charge means attracting expert faculty who have dedicated their scholarship to the advancement of child wellbeing.  One of those illustrious scholars is Maryam Ahranjani, the Don L. & Mabel F. Dickason Professor and Associate Professor at the University of New Mexico School of Law.
Earlier this academic year, Professor Ahranjani received the Steven S. Goldberg Award for Distinguished Scholarship in Education Law at the Education Law Association's 65th Annual Conference.  The presentation of this coveted award recognizes an individual responsible for authoring an outstanding article, book, book chapter, or other form of scholarly legal writing in the field of education law. The selection committee reviewed Professor Ahranjani's articles, "The Prisonization of America's Public Schools" Hofstra Law Review, 2017, and "Universities as 'Sanctuaries'" The Journal of College and University Law, 2018.
Prior to receiving this honor, Professor Ahranjani co-authored Youth Justice in America with UDC David A. Clarke School of Law Professor Andrew G. Ferguson and American University Washington College of Law Emeritus Professor and U.S. Congressman Jamin B. Raskin.
To sit down and talk with Professor Ahranjani is a privilege in itself.  To hear her heart for seeing young people thrive, beginning with her own son, is an inspiration.  In addition to teaching and adding to the body of knowledge pertaining to children in the law, Professor Ahranjani serves as the faculty advisor for the UNM Chapter of the Marshall-Brennan Constitutional Literacy Project, launched and helps facilitate Constitution Day each year at the Law School, and sits on the Child & Family Justice Initiative Committee.  Furthermore, Professor Ahranjani currently serves as the Reporter of the ABA Women in Criminal Justice Task Force, appointed member of the Standing Committee of the ABA's Division for Public Education, immediate past Chair of the Association of American Law Schools (AALS) Section on Children and the Law, and Chair of the AALS Education Law Section.  She recently published an article, "Developing Youth Voices," featured in The CLEO Edge Magazine.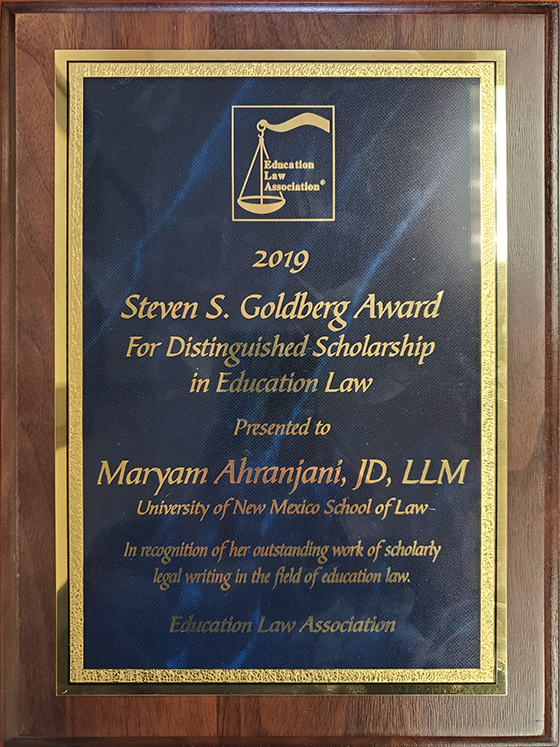 With New Mexico ranking 50th in the nation last year for child wellbeing, it is essential to recruit and retain stellar faculty like Professor Maryam Ahranjani.  To learn more about the Law School's effort to respond to the alarming statistics surrounding children in New Mexico, please visit the Child & Family Justice Initiative (CFJI) website or tune in to the CFJI Podcast.