Prof. Maryam Ahranjani quoted in Santa Fe Reporter
October 24, 2016 - Tamara Williams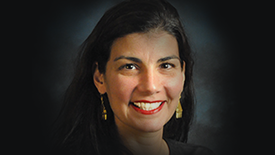 Known for her expertise in constitutional law, Professor Maryam Ahranjani was recently interviewed for a story on the Santa Fe Reporter's law suit again Governor Susana Martinez.
The alternative weekly newspaper sued Martinez for violating the state's public records law and for discriminating against the paper. 
In Martinez on Trial, writer Jeff Proctor discusses the paper's perspective and arguments by attorney Paul Kennedy, who is representing the governor. The article quotes Ahranjani's perspective on the Kennedy's separation-of-powers argument:
Kennedy's separation-of-powers argument is likely to find at least some purchase with Singleton, says Maryam Ahranjani, a professor of constitutional and criminal law at the University of New Mexico School of Law. Judges, she says, are often hesitant to step in and throw elbows at the executive branch, lest they wander into the territory of making law, rather than interpreting it.