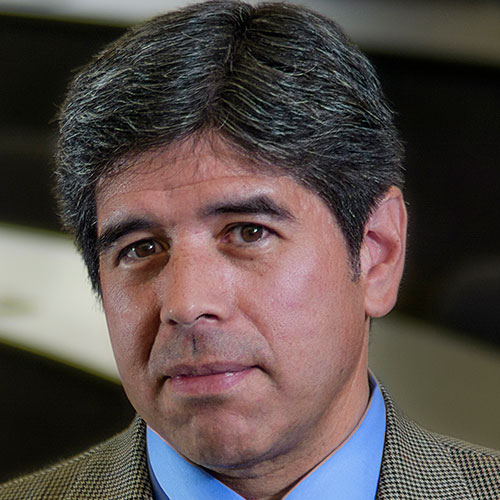 Clifford Villa
Professor of Law
Education
B.A., University of New Mexico
J.D., Lewis & Clark Law School
Member, Oregon State Bar
Member, Washington State Bar Association
Profile
Professor Villa brings extensive practice experience to the UNM law school community, having served for 22 years as legal counsel for the U.S. Environmental Protection Agency, first with EPA Headquarters in Washington, D.C., and later with EPA Regional offices in Denver, Colorado, and Seattle, Washington. Over time, his EPA practice included administrative, civil, and criminal enforcement of federal laws such as the Clean Air Act and Clean Water Act. For the last eight years of his practice, Professor Villa served as legal officer for the EPA's emergency response program, providing on-call legal assistance for federal responses to hazardous waste sites, oil spills, natural disasters, and other major concerns.
In 2006, Professor Villa joined the adjunct faculty at Seattle University School of Law, where he taught courses in environmental law and developed new courses including Disaster Law. As a lawyer and academic, he has spoken at conferences throughout the United States as well as in Spain and Latin America, and he has published scholarly work in places including the Harvard Environmental Law Review and the Columbia Journal of Environmental Law.
As a federal attorney, Professor Villa received multiple awards for commendable service from the EPA and the U.S. Department of Justice. In 2008, recognizing his contributions to public service as both an attorney and educator, he received the Modelo de Excelencia award from the Latina/o Bar Association of Washington. In 2009, Professor Villa was honored with the Outstanding Adjunct Faculty Award from Seattle University School of Law. In 2013, he received the Distinguished Environmental Law Graduate award from Lewis & Clark Law School.
Professor Villa received his J.D.. from Lewis & Clark Law School in Portland, Oregon, and his B.A., summa cum laude, from the University of New Mexico. He was born and raised in Albuquerque, with local roots tracing back to the Atrisco Land Grant of 1692.
In the News
Publications
Books
Environmental Justice: Law, Policy & Regulation (2020) (co-authored with Eileen Gauna et al.).
Available at: UNM-DR
A Practical Introduction to Environmental Law (2017) (co-authored with Joel Mintz, Steve Gold, and Kalyani Robbins).
Available at: UNM-DR
O Papel do Direito e do Advogado no Sistema de Comando de Incidente, Estudos Aprofundados em Direito dos Desastres - Interfaces Comparadas (2013)
Available at: UNM-DR
Articles
No "Box to be Checked": Environmental Justice in Modern Legal Practice, 30.2 NYU  ENVTL. L.J. 157 (2022).
Available at: UNM-DR
Remaking Environmental Justice, 66 LOY. L. REV. 469 (2020).
Available at: UNM-DR
Gold King Mine Spill: Environmental Law and Legal Protections for Environmental Responders, 2019 UTAH L. REV. 263 (2019).
Available at: UNM-DR
Is the "Act of God" Dead?, 7 WASH. J. ENVTL. L. & POL. 320 (2017).
Available at: UNM-DR
Fighting for Environmental Justice: The Life and Work of Professor Eileen Gauna, 57 NAT. RESOURCES J. 519 (2017).
Available at: UNM-DR
Law and Lawyers in the Incident Command System, 36 SEATTLE U. L. REV. 1855 (2013).
Available at: UNM-DR
Superfund vs. Mega-Sites: The Coeur d'Alene River Basin Story, 28 COLUM. J. ENVTL. Law 255 (2003).
Available at: UNM-DR
Cleaning Up the Tracks: Superfund Meets Rails-To-Trails, 25 HARVARD ENVTL. L. Rev. 481 (2001).
Available at: UNM-DR
California Dreaming: Water Transfers from the Pacific Northwest, 23 ENVTL. L. 997 (1993).
Available at: UNM-DR
Bar & Trade Publications
Adapting To a 4°C World, 52.10211 ENVTL. L. REP. (2022) (co-authored with Bork et al.).
Available at: SSRN
The Dawning of Disaster Law, 70 NW LAW. 36 (2016).
Available at: UNM-DR
Rising from the Ravages, THE LAW. (September 2014).
The Practice of Disaster Law, L. PRAC. TODAY (March 2012).
Available at: UNM-DR
Clear the Air: The Road Taken: A Reflection on Michael C. Blumm & William Warnock's Roads Not Taken: EPA vs. Clean Water, 34 ENVTL. L. 809 (2004).
Available at: UNM-DR
Book Reviews
Jonathan P. Thompson's River of Lost Souls: The Science, Politics, and Green Behind the Gold King Mine Disaster (2018), 41 PUB. LAND & RESOURCES L. REV. 69 (2019).
Available at: UNM-DR
Popular Press
Es FEMA El Problema? Hurricane Maria and the Slow Road to Recovery in Puerto Rico, LEGAL PLANET (May 17, 2018).
Available at: UNM-DR
Flint Drinking Water Contamination: Frames of Reference, HARVARD LAW SCHOOL (April 13, 2016).
Available at: UNM-DR
Clearing Up Questions on River Spill, ALBUQUERQUE J. (August 13, 2015).
Available at: UNM-DR
Law School News