Professor Cliff Villa Selected as 2018 Haub Environmental Law Distinguished Junior Scholar
October 26, 2018 - Hannah Farrington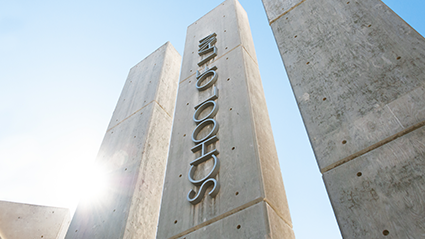 UNM Law Professor Cliff Villa has been selected by the Pace University Elisabeth Haub School of Law Environmental Law Program as the 2018 Haub Environmental Law Distinguished Junior Scholar. The award is presented annually to an emerging environmental law professor who exhibits scholarly excellence and promise at an early stage in his or her career.


Professor Villa has extensive related experience, having served for 22 years as legal counsel for the U.S. Environmental Protection Agency. Professor Villa also served as legal officer for the EPA's emergency response program, providing on-call legal assistance for federal responses to hazardous waste sites, oil spills, natural disasters, and other major concerns. As a lawyer and academic, he has spoken at conferences throughout the United States as well as in Spain and Latin America, and he has published scholarly work in places including the Harvard Environmental Law Review and the Columbia Journal of Environmental Law.
Among other recent accomplishments, Legal Planet, a collaboration between faculty at UC Berkeley School of Law and UCLA School of Law that provides insight and analysis on energy and environmental law and policy, featured Professor Villa as guest blogger following his recent visit to Puerto Rico in the aftermath of Hurricane Maria. "Es FEMA El Problema? Hurricane Maria and the Slow Road to Recovery in Puerto Rico", offers an insider's view on the state of the island and its residents, and their disposition toward FEMA and its efforts in the months since disaster struck. His blog goes on to explore the nature of responsibility, legal implications and blame in post-Maria Puerto Rico. Last year, Villa, along with colleague Professor Christine Zuni Cruz, participated in a talk given by renowned activist Dave Archambault, Sr. about the Dakota Access Pipeline protests.
As a federal attorney, Professor Villa received multiple awards for commendable service from the EPA and the U.S. Department of Justice. In 2008, recognizing his contributions to public service as both an attorney and educator, he received the Modelo de Excelencia award from the Latina/o Bar Association of Washington. In 2009, Professor Villa was honored with the Outstanding Adjunct Faculty Award from Seattle University School of Law. In 2013, he received the Distinguished Environmental Law Graduate award from Lewis & Clark Law School.
Villa is the author of numerous publications and articles including, A Practical Introduction to Environmental Law (Carolina Academic Press 2017), with Joel Mintz, Nova Southeastern Law School; Steve Gold, Rutgers-Newark Law School; and Kalyani Robbins, Florida International University College of Law, Law and Lawyers in the Incident Command System, 36 Seattle U. L. Rev. 1855 (2013), Rising from the Ravages, The Lawyer (Sept. 2014), The Practice of Disaster Law, ABA Law Practice Today (March 2012), and more. Professor Villa received his J.D. from Lewis & Clark Law School in Portland, Oregon, and his B.A., summa cum laude, from the University of New Mexico. He was born and raised in Albuquerque, with local roots tracing back to the Atrisco Land Grant of 1692. To read more about Prof. Villa's teaching and scholarship please click here. More information about the Haub Environmental Law Distinguished Junior Scholar Award can be found here .
UNM Law's Natural Resources & Environmental Law Program is a top-rated program, recently receiving an A- rating, alongside Stanford, UC Davis, University of Michigan and the University of Virginia, in PreLaw Magazine's Top Law Schools in Environmental Law. To learn more about all the facets of our top-notch program, click here.