Two UNM Law Professors participate in DAPL talk by renowned activist
March 24, 2017 - Tamara Williams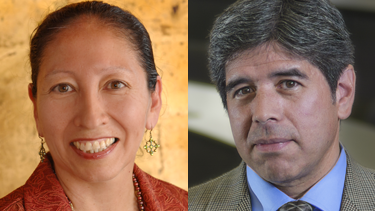 UNM Law School Professors Christine Zuni Cruz and Cliff Villa recently participated in a talk about the Dakota Access Pipeline protests given by Dave Archambault, Sr., a tribal activist and writer for Indian Country. He is the father of current Standing Rock Sioux Tribal Chairman Dave Archambault.
Archambault, Sr. has written several articles about the continuing controversy over DAPL for Indian Country and is featured in a Ted Talk about Indian education.
At UNM, he presented "Drawing the Line at DAPL: Responding to 'Trumpism' and the Legacies of Settler Colonialism," in connection with Teach Week sponsored by the Community and Regional Planning Program of the School of Architecture and Planning.
Zuni Cruz and Villa were asked to "respond to and contextualize Archambault's lecture," according to an article by Cathy cook in the Daily Lobo, titled, Standing Rock Sioux Tribe member speaks out against DAPL during UNM lecture. The following is an excerpt from Cook's article:
UNM professor Christine Zuni Cruz said the legal outcome of Standing Rock will be applicable to all tribal nations and that it is important for the U.S. government to try to understand indigenous legal traditions.
Cruz said there are seven legal traditions throughout the world.
"We had legal systems, principles, doctrines, ideas that were ours, embedded in the land, embedded in our languages, embedded in the way that we viewed the world, at the center of which were our ecologies and our landscapes and our relationships — both human and nonhuman — with everything that occupied the landscapes that we come from," she said. "Without an understanding of this indigenous legal tradition it's difficult for the other six dominant legal systems of nation states to truly understand the legal claims of the indigenous legal traditions that indigenous people still adhere to."
Environmental law professor Clifford Villa said he believes that, because of the Clean Water Act and the National Environmental Policy Act, the tribe has a strong case against the pipeline.
"There is a real risk here of oil spills. Pipelines fail. Pipelines, in my opinion, they're actually one of the safest ways to transport oil," he said. "On the other hand, you have that many miles of pipeline...they will fail."