Prof. Cliff Villa describes Gold King Mine's superfund designation on KOB-TV
September 15, 2016 - Tamara Williams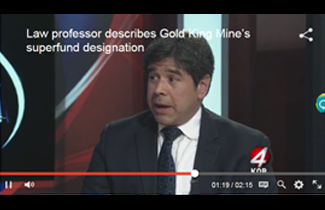 Professor Cliff Villa  is the expert the media seek out to explain the consequences of the Animas River spill.
Prior to teaching environmental law at the law school, Villa served more than two decades with the U.S. Environmental Protection Agency.
On Sept. 12, Villa explained the legal implications of the Gold King Mine's superfund designation on KOB-TV with Eyewitness News 4 co-anchor Tom Joles.
Watch the video here: Law professor describes Gold King Mine's superfund designation
KOB's introduction to this feature follows: 
Last week, federal officials made the Gold King Mine in southwest Colorado a superfund site. The designation will free up millions of dollars in federal money for an extensive cleanup at the site near Silverton, Colorado.
A clean-up crew working for the Environmental Protection Agency triggered the massive spill in August 2015. Three million gallons of toxic sludge ended up in the Animas and San Juan rivers, affecting Colorado, New Mexico and Utah.
Cliff Villa, an assistant professor at the UNM School of Law, explains what the superfund designation means. Watch the video above to learn more.