UNM Law Semester in DC
When:  For the next cycle, it will be in the Fall 2022 semester.
Program components: 
Students will work 35 hours per week in their Washington DC area placement.
Students will attend a mandatory classroom component of 3 graded hours per week (Federal Law and Practice) in a location to be determined each year depending on instructor.
Students will enroll for 12 additional ungraded credits for an overall of 15 credits. (3 graded 12 Credit/C-, D, F)
Who is eligible:  All rising 2Ls who have completed the first-year basic required curriculum as well as 3L students are eligible to apply.
Information Workshop: September 30, 2021 12:00 p.m. room 2401
Application open date: October 4, 2021
Application deadline: October 13, 2021 5:00 p.m.
Application information:  Law School CONNECT
Application components: Letter of interest (indicating the type of fieldwork in which the applicant is interested), resume, unofficial transcript, list of 2 references, writing sample (5 pages double spaced).
The Washington, DC Metro Area boasts the largest group of School of Law alumni outside the state of New Mexico. Our DC area alumni are very connected and engaged with the Law School despite the geographic distance.
In the UNM Law Semester in DC, students work 35 hours per week in an area government agency, non-profit or other approved organization under the supervision of a licensed attorney. There is a mandatory weekly 3 hour class component taught by a law school professor at a location to be determined each semester. In addition, students are paired with attorney mentors who meet with students, set up networking opportunities, social events, and provide invaluable guidance.
In the past, generous alumni/ae have made annual contributions to the program to help defray the living expenses of students attending the Semester in DC Program. In 2018, an anonymous donor and others endowed an annual partial scholarship for each student enrolled in the Semester in DC program to honor Sally and Professor Ted Occhialino, who were instrumental in supporting the Semester in DC program in its early years.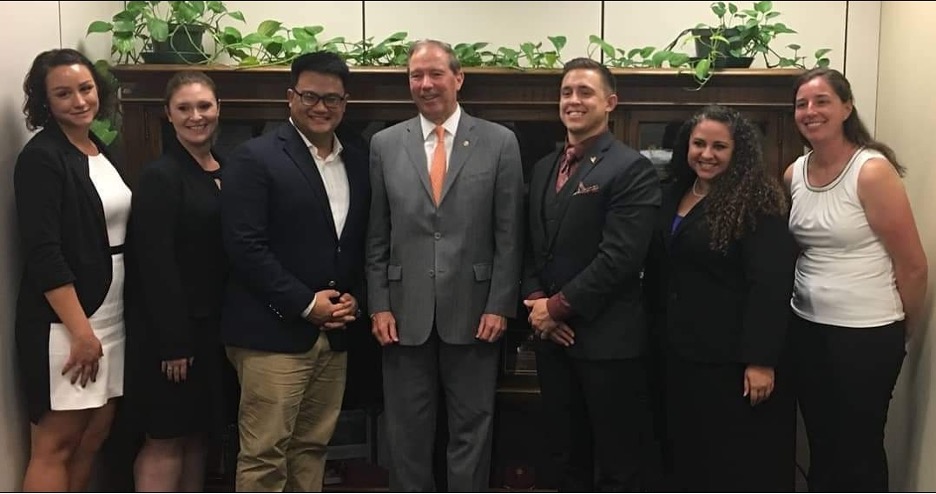 There is a truly wonderful and impressive community of UNM law graduates in the Washington, DC area, who are eager to give back to the law school by way of helping our students who are in the Nation's Capital. Our alumni have been instrumental in ensuring that students participating the DC Program feel welcome, become easily acclimated to the city, and are well-supported. The law school has a significant presence in the Washington, DC metro area, and our mark on national policies and legal developments there will only increase as our program continues to grow and attract eager students to participate fully in all it has to offer.
To apply upload application materials in CONNECT.