Law Alumni Association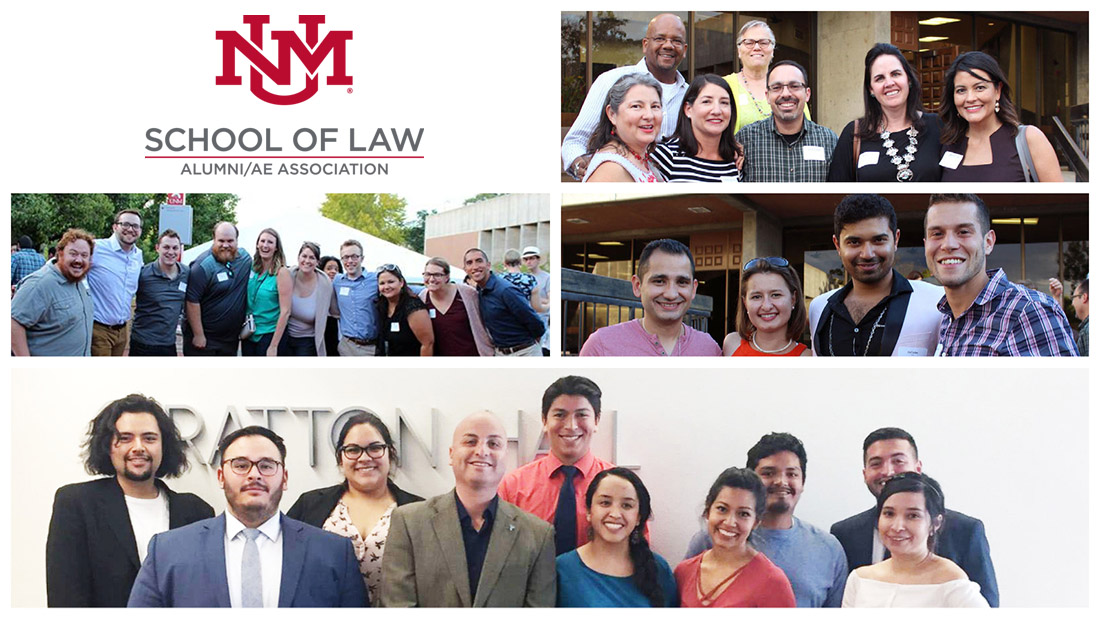 Our Mission
To establish and maintain a mutually beneficial relationship between the University of New Mexico School of Law (the "Law School") and its alumni/ae; to interest alumni/ae, members of the Bar, and other persons or corporations in raising funds for the benefit of the Law School; to work with the Dean of the Law School to support the Law School in its training, research and service functions; and generally to advance the goals and purposes of the Association.
Board Members
Officers
Andrea Salazar ('11), President
Sheryl Saavedra ('94), Vice President
Ben Sherman ('08), Secretary
Matthew Beck ('12), Treasurer
Jason Kerkmans ('14), Past President
 
The Board of Directors of the University of New Mexico School of Law Alumni Association provides broad-based support to the UNM School of Law. The board maintains and strengthens the relationship between the school, its students, its alumni and the state's legal community.
Samantha Adams ('03)
Hon. Diane Albert ('07)
Hon. Michael Aragon ('99)
Mark Barron ('06)
Bobbie Batley ('96)
Deana Bennett ('07)
Kay Bratton ('85)
Roxanna Chacon ('01)
Ann Claassen ('89)
Ernestina Cruz ('01)
Connie Flores ('08)
Justin Goodman ('11)
Andrea Gunderson ('06)
Hon. Shammara Henderson ('07)
Danny Jarrett ('96)
Meredith Johnstone ('09)
Harold Lavender ('74)
Cindy Lovato-Farmer ('93)
Robert Lucero ('08)
Taylor Lueras ('12)
Agnes Fuentevilla Padilla ('92)
Quiana Salazar-King ('13)
Steve Scholl ('89)
Andy Schultz ('84)
Barbara Shapiro ('78)
Raynard Struck ('99)
Craig Williams ('14)
Bradford Zeikus ('66)
Board Members by Committee
DAAD
Sam Adams Co-Chair
Hon. Michael Aragon
Bobbie Batley
Ann Claassen
Agnes Fuentevilla Padilla
Justin Goodman
Cindy Lovato-Farmer
Robert Lucero
Taylor Lueras
Sheryl Saavedra
Andrea Salazar
Steve Scholl Co-Chair
Andy Schultz
Bradford Zeikus
Golf Classic
Hon. Diane Albert
Mark Barron
Matt Beck Co-Chair
Deana Bennett
Andrea Gunderson
Danny Jarrett
Meredith Johnstone
Jason Kerkmans
Harold Lavender
Quiana Salazar-King
Ben Sherman Co-Chair
Raynard Struck
Craig Williams
Nominating
Hon. Michael Aragon
Kay Bratton
Roxanna Chacon
Tina Cruz
Connie Flores
Hon. Shammara Henderson Chair
Harold Lavender
Robert Lucero
Steven Scholl
Barbara Shapiro