Lecturer: Cristina Rodriguez, J.D.
Lecture: "Partisan Polarization, the Supreme Court, and Prospects for Reform."
Thursday, February 23, 2023
Lecture Begins: 5:30 PM
UNM School of Law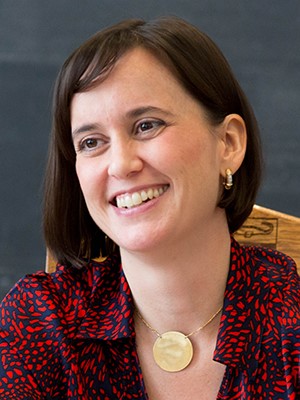 ---
This endowed lecture honors the memory of highly respected trial lawyer John F. Simms, who served on the New Mexico Supreme Court and as a University of New Mexico Regent. Past Simms Lecturers have included justices of the United States Supreme Court, presidents of universities, law deans and professors, high-level government officials, and United States Court of Appeals judges.
---
Cristina Rodríguez, J.D.
Cristina Rodríguez is the Leighton Homer Surbeck Professor of Law and Counselor to the Dean at Yale Law School. Her fields of research and teaching include constitutional law and theory, immigration law and policy, administrative law and process and citizenship theory.
In 2021, she was appointed by President Biden to co-chair the Commission on the Supreme Court of the United States. Her recent writings include the 2020 Foreword to the Harvard Law Review, "Regime Change," and the book, The President and Immigration Law, co-authored with Adam Cox and published by Oxford University Press in September 2020. In recent years, her work has focused on the relationships between administrative and executive governance and democratic politics and decision-making.
She has turned to immigration law and related areas as vehicles through which to explore how the allocation and exercise of power (through federalism, the separation of powers, and the structure of the bureaucracy) shapes the management and resolution of legal and political conflict. Her work also has examined the effects of immigration on society and culture, as well as the legal and political strategies societies adopt to absorb immigrant populations. Rodríguez joined Yale Law School in 2013 after serving for two years as Deputy Assistant Attorney General in the Office of Legal Counsel at the U.S. Department of Justice.
She was on the faculty at the New York University School of Law from 2004–2012 and has been Visiting Professor of Law at Stanford, Harvard, and Columbia Law Schools. She is a member of the American Academy of Arts and Sciences and the American Law Institute, a trustee and non-resident fellow of the Migration Policy Institute in Washington, D.C., and a past member of the Council on Foreign Relations. She earned her B.A. and J.D. degrees from Yale and attended Oxford University as a Rhodes Scholar, where she received a Master of Letters in Modern History. Following law school, Rodríguez clerked for Judge David S. Tatel of the U.S. Court of Appeals for the D.C. Circuit and Justice Sandra Day O'Connor of the U.S. Supreme Court.
"Partisan Polarization, the Supreme Court, and Prospects for Reform."
The Constitution and the institutions it creates should form a government whose structures work well in the sense that they together should enable democracy, self-government, and human flourishing. But public confidence in our constitutional institutions, including the historically vaunted Supreme Court, has eroded substantially in recent years, and the political culture that sustains these institutions is riven, alienating, and polarized. With a focus on recent calls to reform the Supreme Court, this lecture will consider whether and how institutional reform might revitalize our constitutional government, with an emphasis on the great stakes of these questions.