Alumni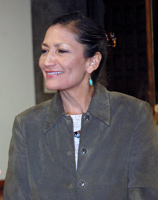 More than 250 Native Americans have graduated from the UNM School of Law, far more than from any other law school in the country. Since the certificate program began, nearly 100 students, both Indian and non-Indian, have earned an Indian Law Certificate, indicating extensive training in the field.
UNM alumni hold leadership positions throughout Indian Country, working for tribal agencies, courts, businesses, congressional committees, nonprofit organizations, legal services providers, academic institutions and private law firms.
Among the many notable Native American alumni are John Echohawk ('70), director of the Native American Rights Fund; Robert Yazzie ('82), chief justice emeritus of the Navajo Nation; Kevin Gover ('81), director of the Smithsonian Institution's National Museum of the American Indian; Thomas Acevedo ('78), chief of staff of the Mohegan Tribe.
The Indian Alumni Council provides mentorship support and works to establish scholarships and internships for UNM Native American law students.