Specializing in Indian Law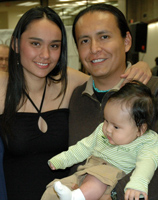 All students at the University of New Mexico School of Law are eligible to participate in the Indian Law Certificate (ILC) Program, which was developed in response to a growing need nationwide for lawyers trained in Indian law. The program prepares students to work with tribes, Indian clients and the federal government.
Students pursuing the certificate must complete 21 hours of Indian Law coursework, including both academic study and practical experience, as part of their J.D. requirements. ILC students must maintain a 2.5 cumulative grade-point average in courses that count toward the certificate.
UNM law students have until the spring semester of their second year to enroll in the program and they must also complete all other graduation requirements.
The 21-hour requirement can be met by successfully completing the following components:
Required Courses (6 hours)
Indian Law
Federal Jurisdiction
Additional Indian Law Courses (6–9 hours)
Native American Rights
Law of Indigenous Peoples
Economic Development in Indian Country
Indian Tax
Indian Gaming
Native Land Rights and Claims
Indian Water Law
Conflicts of Indian Law
Native American Moot Court Competition
Courses on the environment, natural resources, managing native lands, and other topics are available on an as-scheduled basis.
Experiential Training (3–6 hours)
Southwest Indian Law Clinic (SILC)
Law Office Externship
Graduate Level Non-Law Courses (3 hours optional)
Any selection from UNM Native American Studies courses that focuses on American Indians. These courses must be approved each semester by the ILC Program advisers.
Writing Requirement
This requirement must be met by enrolling in an Indian Law writing seminar or by arranging with a full-time L&IPP faculty member to write a substantial research paper on a federal Indian law or tribal law topic.
Dual Completion of the Natural Resources Certificate
It is possible for students to obtain an Indian Law Certificate and a Natural Resources Certificate by selecting courses that meet the requirements for both certificates. Before enrolling in the ILC program, students should carefully read the course descriptions.
Contact
Questions about the ILC program should be directed to Program Administrator Mitzi Vigil at 277-0405.