Athletics and Recreation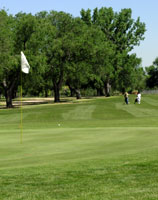 Sports, schedules, tickets, and pricing are listed at UNM Athletics. Student tickets are $5.00; students must purchase tickets at the UNM Ticket Office ( 925-LOBO) to receive the student discount.
UNM Recreational Services describes UNM facilities and programs. UNM has tennis courts, swimming pools, dance studios, weight rooms, handball and racquetball courts, three gymnasiums, and numerous playing fields. UNM has two golf courses. The 18-hole south course is located off the Rio Bravo exit and the 9-hole course is near the Law School.
Recreational Services offers intramural team and individual activities in a wide variety of sports, including basketball, skiing, fencing, badminton, racquetball and ropes courses. The Fitness Program includes aerobic dance, water aerobics, body sculpting and step aerobics.
The Getaway Adventures Program offers activities in special places and events in New Mexico such as white water rafting, kayaking, skiing, scuba diving, fishing and cooking.