Parking & Commuting to Campus
On Campus Parking
Permits are sold to students just prior to the beginning of the fall semester through the Department of Parking & Transportation Services (PATS). The law school parking lot requires an "L" permit for automobiles and motorcycles. Limited metered parking is available, as are designated handicap spaces. Due to space constraints in the L parking lot, some portion of the available parking permits will be made available through a lottery to first year law students. Second and third year law students will have some priority for purchasing L lot permits.
Students who are not selected as a part of the lottery process or who do not purchase their permits by the specified deadline will be eligible to purchase G or Q permits. Students will be notified through email by the Law School when they may purchase parking permits. The UNM Shuttle system runs frequently between both the G and Q parking lots and the School of Law.
Law School parking lot requires a L lot parking permit. Fall, Spring, and Summer permit hours are from 7:00 am to 4:00 pm. There are no restrictions on weekends for parking. After 3:45 pm parking lots, with the exception of D, R and the parking structure, become generic – you may park at any numbered lot with a valid parking permit. Illegally parked vehicles will be ticketed and towed. Vehicles that display a state handicapped placard may park in designated handicapped spaces or regular spaces. Students with temporary disabilities should call Parking & Transportation Services for information about possible accommodations.
For driving directions to campus, click here.
Please review the information below for additional options to commuting to campus.
ABQ Ride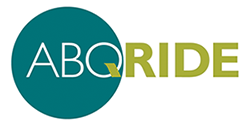 One of the benefits of being a UNM student is that you are eligible for a free monthly pass for the ABQ Ride (City of Albuquerque transit system).
Eligible UNM students, faculty, and staff can ride ABQ Ride for free with a bus pass sticker. Students must be registered for at least 3 credit hours. Staff/Faculty must meet the eligibility requirements (former staff/faculty, retirees, and temporary staff/faculty are currently not eligible). Stickers must be renewed every academic year. Students must provide a printout of their current class schedule and faculty and staff must provide an expanded online directory record and a sticker will be placed on their Lobo ID by going to the following locations:
UNM Student Union Building - Transportation Information Center (Plaza Level)
UNM Student Union Building Welcome Desk (Mall Level)
UNM Medical/Legal Bookstore
UNM Parking and Transportation Services (on the NW corner of University & Central)
UNM Hospital Parking and Transportation Services
The closest bus stops are Lomas @ Yale, Lomas @ Central, and Lomas @ Campus.
Routes & Schedules
Utilize ABQ Ride's website and apps for more information on schedules, routes, and trip planning.
Where's My Bus? 
Download the UNM LoboMobile app today to track your ride! Users can track the locations of ABQ RIDE buses and UNM shuttles in near-real time using a computer or smartphone.
Bike to UNM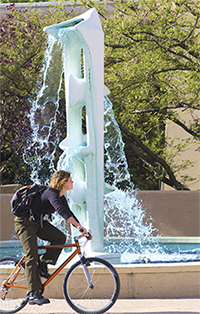 The University of New Mexico is a Bicycle Friendly University, recently recognized with a Bronze level Bicycle Friendly University (BFU) award from the League of American Bicyclists, joining 100 other visionary colleges and universities from across the county. There are currently 37 BFUs in the country. As a BFU, UNM has access to a variety of free tools and technical assistance from the League to become even more bicycle-friendly. When colleges and universities invest in bicycling, great things happen including a decreased carbon footprint, reduced healthcare costs, community connectedness and a fun and healthy campus culture. To learn more about the free BFU program, please visit the League of American Bicyclists.
Bike Racks & Lockers
The School of Law has free-to-use bike racks on campus and a secured set of bike racks located on the north end of the School's L-Lot parking lot. The secured racks have an access code which can be found on our school's intranet that can be accessed by students, faculty, and staff with their School of Law log-in information.
For added security, there are also seventy (70) bike lockers placed throughout Main and North campuses and are available to rent on an annual basis from PATS. Contact Parking & Transportation Services at 505-277-1938 or stop by their office at 2401 Redondo Dr. NE to inquire or get on the waitlist.
Bike Maintenance
UNM Rec Services Outdoor & Bike Shop is a complete bicycle repair facility, servicing all makes of bicycles. The Bike Shop is located at the East Entrance to Johnson Center Gymnasium and is open Monday through Friday from 8am – 5pm. The shop also rents bicycles, recreational, and camping equipment to University community members with a valid University ID.
UNM Shuttle System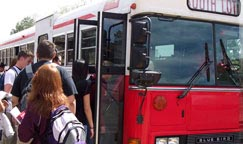 The Parking & Transportation Services (PATS) Transportation system is a comprehensive transit network designed for rapid and convenient campus travel. The UNM Transportation system is offered free of charge and transports students, staff, faculty, and visitors from UNM Park and Ride lots onto campus and connects the north, main, and south campus areas. UNM transportation also offers free shuttle service to and from the New Mexico Rail Runner Station (also known as the Alvarado Transportation Center) Monday through Friday once in the morning and two trips in the afternoon for convenience.
Shuttles typically run every 15 minutes during the standard academic year and pick up on the south end of the School of Law parking lot along Tucker Avenue near the Law School Clinic and NM State Court of Appeals building.
For shuttle operation times, please click here.
For more information on parking and transportation resources here at the University of New Mexico, please visit the PATS website.