Clinic Students Take on Asylum Case
June 12, 2008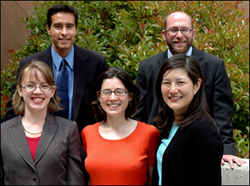 Working on an asylum case in the Community Lawyering Clinic this past spring, three UNM law students learned more than how to research a case; they learned about the higher stakes that can be involved when representing a client.
The case involved a man who had been persecuted by an extremist political party for his religious and political views and was charged with blasphemy, a crime punishable by death in his native country. His case came to the attention of Jenny Landau (`06), who has been providing legal representation to immigrants as part of an Equal Justice Works fellowship with Diocesan Migrant and Refugee Services.
Under the supervision of Landau and Professor Carol Suzuki, who worked on asylum cases prior to joining the UNM clinical law faculty, the students handled every aspect of the case: they filed an amended application for asylum with the El Paso Immigration Court, wrote an accompanying affidavit, a supporting brief and argued the case before a judge in El Paso.
"I cared so much about our client," says Cassandra Malone, who, collectively, along with classmates Shawn Cummings and Keith Blake, spent nearly 400 hours on the case. "I kept thinking, `We have to do the best for him.'"
They interviewed and prepared their client, which required a language interpreter. They did massive amounts of research and legal analysis and went through a mock trial. Dr. Shannon Stromberg with the UNM School of Medicine provided medical evidence in support of the client's claim that he had been persecuted in his home country.
At the hearing, Blake presented the opening statement, Malone performed a direct examination of their client and Cummings presented the closing argument. Throughout the case's preparation, the judge graciously accommodated the students' schedules and even facilitated an impromptu tour of the El Paso immigration detention facility.
When the judge granted asylum to their client, everybody wept.
"This was a wonderful experience for the students," says Suzuki. "It was great to be able to take on this important work at the UNM law school and I hope we can work on more asylum cases."
In the photo (l-r): Cassandra Malone, Shawn Cummings, Jenny Landau (`06), Keith Blake, Professor Carol Suzuki.