Professor Nathalie Martin Speaks to National AG Association
January 14, 2010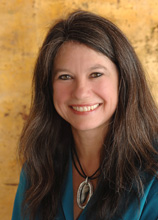 At the invitation of the National Association of Attorneys General (NAAG), Professor Nathalie Martin shared her knowledge on the perils of payday lending at the association's winter meeting. The meeting was attended by the attorney general of almost every state in the country, as well as many territories and tribes.
During her presentation, Martin warned the NAAG members against ineffective legislation.
As an example, she pointed to New Mexico's 2007 payday lending law, which has not curbed abuses in the payday and short-term-loan industry. She is currently advising several states on legislating and enforcing payday and other short-term loans.
The NAAG membership consists of attorneys general, the chief law enforcement officers, of all 50 states, the District of Columbia and United State territories, as well as tribal nations and communities. The association works to help those AGs respond effectively to emerging state and federal issues.
"It was a real honor to speak about this important issue to an audience that has a real ability and desire to make a difference in people's lives," says Martin.