Professor Chris Fritz Proposes New Approach to Constitutionalism
February 10, 2010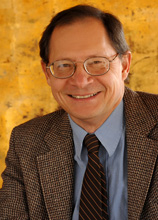 Does our current preoccupation with the federal Constitution constrain our understanding of the American constitutional tradition? This was the question Professor Chris Fritz sought to answer on Feb. 1, when he delivered the 21st Annual State Constitutional Law Lecture at the State University of New Jersey (Rutgers, Camden) School of Law.
Entitled "Out From Under the Shadow of the Federal Constitution: An Overlooked American Constitutionalism," Fritz's talk proposed that greater attention to state constitutions can provide new and significant insights into how Americans have struggled, and continue to struggle, over the constitutional authority of "the people" since the time of Independence. This idea emerged from the implications of his recent book, American Sovereigns: The People and America's Constitutional Tradition Before the Civil War.
Fritz said he was "deeply humbled" to follow such distinguished scholars in the lecture series including, Akhil Amar, John Dinan, Harry Scheiber and Gordon Wood, but proud to represent UNM in contributing to the ongoing scholarship exploring the historical and legal dimensions of American constitutionalism. An expanded written version of his talk will be published later this year as the forward to the Rutgers Law Journal'sannual state constitutional law issue.