Professor Nathalie Martin Plays Role in New Law
March 10, 2010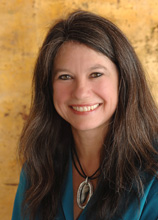 Professor Nathalie Martin helped prepare legislation recently signed into law by Gov. Bill Richardson that provides greater protection to residents of continuing-care communities in the state.
The Senate Bill, introduced in the 2010 Legislature, provided amendments to the Continuing Care Act that require upfront fees paid by incoming residents be reserved for the future use of the members of the community. Previously, the law did not require those fees be reserved for the future care of the residents.
Martin assisted the Aging and Long-Term Services Department, along with a resident of Plaza de Retiro, a continuing care facility in Taos that filed for bankruptcy in 2009, in drafting the legislation.
"It was rewarding to help move through the Legislature a bill that will protect New Mexico's citizens in this way," says Martin. "It's also good for the state in that more older citizens might be attracted to moving here."