Dean Kevin Washburn Shares Expertise on New Act
October 21, 2010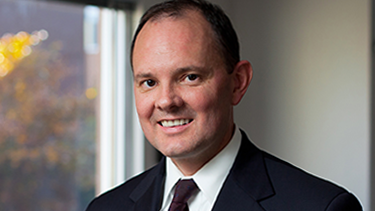 Dean Kevin Washburn participated in a national symposium to discuss the Tribal Law and Order Act, which expands significantly the powers of tribal courts to combat crime on reservations. Washburn played a significant role in the creation of the act, including testifying at the first Senate hearing on the bill, and he attended the July ceremony at the White House when President Obama signed the bill into law.
At the symposium in Albuquerque in mid-October, about 150 judges, law enforcement officials and tribal leaders gathered to discuss the new law. Washburn described the act as the first significant congressional effort aimed at helping tribal governments improve their public safety and criminal justice systems.
Washburn, a nationally prominent scholar in criminal law in Indian country, first began discussing and evaluating criminal justice on Indian reservations nearly seven years ago in academic articles. He was a consultant on an award-winning Denver Post series in 2007 that highlighted lawlessness in Indian country and provided input to a 2007 Amnesty International report that accused the United States of human rights violations for its failure to protect Native American women from high rates of domestic violence.
He helped draft the legislation, which was introduced in 2008, with John Harte (`96), a member of San Felipe Pueblo, who was counsel for the Senate Indian Affairs Committee. In addition to testifying on behalf of the bill before the Senate committee, Washburn advised the U.S. Sentencing Commission on the ramifications of the bill for federal sentencing policy.
"It has been rewarding to be involved in such an important issue from the beginning," said Washburn. "For a law professor to help make such a positive impact is definitely a career highlight."
The act seeks to bring greater local control to tribal law enforcement agencies to combat reservation crime and to establish accountability measures for federal agencies responsible for providing public safety in Indian Country. Statistics show that violent crime against Native Americans on reservations is much higher than the national average.
The new law requires federal law enforcement agencies to collect data on crimes committed in Indian Country, and requires the U.S. Department of Justice to maintain criminal data on cases that U.S. attorneys decline to prosecute. The act will also provide a more accurate picture of how violent crimes are pervading Native American communities.
In late 2009, UNM Law Professor Barbara Creel also testified on behalf of the bill at the invitation of the U.S. House of Representatives' Subcommittee of Crime, Terrorism and Homeland Security.