Professor Lopez Discusses Access to Justice at Stanford Forum
March 21, 2011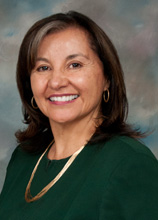 Professor Antoinette Sedillo Lopez shared her expertise at an invitation-only Access to Justice Forum at Stanford Law School on March 18. She joined about 20 legal experts at the roundtable event where they addressed ways to enhance the role of legal scholars and teachers in closing the justice gap in America.
Lopez was a member of the final panel, which was charged with pulling together ideas discussed throughout the forum into a strategic agenda for improving access to justice.
At the University of New Mexico School of Law, she was instrumental in establishing the UNM Access to Justice Practitioner Network, a group of lawyers willing to offer pro bono and reduced-fee services to under-served clients that the clinic is unable to help.
The roundtable was sponsored by the Stanford Center of the Legal Profession.