UNM Law Professors Present at National Conference
March 1, 2011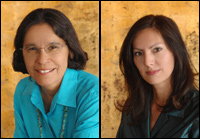 University of New Mexico School of Law professors Gloria Valencia-Weber and Barbara Creel (`90) made separate presentations at Thomas Jefferson School of Law's 10th Anniversary Women and the Law Conference in mid-February. The conference title was Gender Justice and Indian Sovereignty: Native American Women and the Law.
Valencia-Weber and Rina Swentzell, an author and member of Santa Clara Pueblo, collaborated on two presentations, which they gave together. Swentzell's presentation was titled, "Pueblo Gender Discrimination, Membership, and Community Action: The On-Going Conversation Within Santa Clara," and Valencia-Weber discussed, "Gender and Tribal Citizenship: The Santa Clara Case and Beyond." Creel's talk was titled, "Access to Justice for Tribal People in Federal and Tribal Court Criminal Proceedings."
Also presenting at the day-long conference was Rebecca Tsosie, who will be joining the UNM law faculty later in 2011. Her talk was titled, "Native Women and Leadership: An Ethics of Culture and Relationship." She is currently on the faculty of Arizona State University College of Law.
The speakers included 11 serving judges on the courts of more than a dozen Indian Nations, two Native women who were current or former state court judges, and the first and only Indian woman to serve as U.S. Attorney. When it was established, the Women and the Law conference was the first regular conference series in the western United States that focused on issues pertaining to women, gender and the law.
Another presenter was Aliza Organick (`96), a professor at Washburn University School of Law and chair of the AALS Section on Indian Nations and Indigenous Peoples. Her presentation was titled, "Losing Sight of the Counter-Narrative: The Unintended Consequences of the Tribal Law and Order Act of 2010."