Distinguished Achievement Awards 2011
November 17, 2011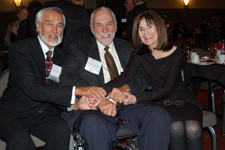 More than 400 alumni and friends of the University of New Mexico School of Law converged at the UNM Student Union Ballroom on Nov. 4 to celebrate the achievements and contributions of Catherine Goldberg (`75), Peter Mallery (`68) and Former Dean Leo Romero, this year's recipients of the school's Distinguished Achievement Award.
Dean Kevin Washburn and UNM School of Law Alumni/ae Association President Steve Scholl (`89) presented the awards to the honorees.
The Distinguished Achievement Awards Dinner is presented by the UNM School of Law and the school's Alumni/ae Association. In addition to honoring members of the legal community for their outstanding accomplishments, the dinner raises funds for the Alumni/ae Association Board scholarships. These scholarships are the school's only merit-based full-tuition scholarships presented to incoming law students.
Video profiles, provided by Avista Video Histories, of the award recipients.