UNM Law School Professor Alfred Mathewson Plays Key Role in Annual Celebrations Honoring Dr. Martin Luther King Jr.
January 30, 2015 - Tamara Williams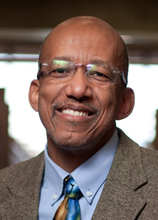 Professor Alfred D. Mathewson has had a long and vital role in Albuquerque's celebration of Dr. Martin Luther King Jr.
In 2010, Mathewson was presented with the "Keep the Dream Alive Award" by the MLK Multicultural Board during the Martin Luther King Day events in Albuquerque. The award is presented those who are keeping the dream of Dr. Martin Luther King Jr. alive by promoting his legacy through their work in the community.
In 1990, Mathewson and the UNM Clinical Law Program assisted the Martin Luther King Multicultural Council in incorporating and obtaining its tax exempt status. "It continues to be an all-volunteer organization but they must have awarded well over a half million dollars in scholarships now," says Mathewson. "I am pleased to have supervised the students in the Clinic. They should be very proud of what has become of their work."
This year, approximately 800 guests attended the Dr. Martin Luther King Jr. 25th Annual Multicultural Celebration on January 19th at Congregation Albert in Albuquerque.
Mathewson was invited as key speaker and read excerpts from King's April 1963 "Letter From Birmingham Jail," penned after King and others defied an Alabama judge's injunction against "parading, demonstrating, boycotting, trespassing and picketing."
"Dr. King's 'Letter from a Birmingham Jail' is as relevant today as it was when he wrote it," Mathewson said.
The MLK Multicultural Board also presented 27 college scholarships to high school students. The awards were based on essays each wrote about King's values of love, tolerance, and nonviolence and how they will continue his teachings in their own lives.
In addition, the Dr. Martin Luther King Jr. Multicultural Council presented the "Keep the Dream Alive Award" for lifelong civic, social and political activism to Preston Wood, Laura Threet and the Rev. Judith L. Maynard.
At the law school, Mathewson is the Henry Weihofen Chair in Law, where his teaching and research focuses on antitrust law, business planning, sports law, minority business enterprises and corporate governance. Since 2013, he has been Director of UNM's Africana Studies Program, after having served as Acting or Interim Director since 2009.