First NM Team to go to D.C. Eager to Compete Nationally; Need Your Support
February 6, 2015 - Tamara Williams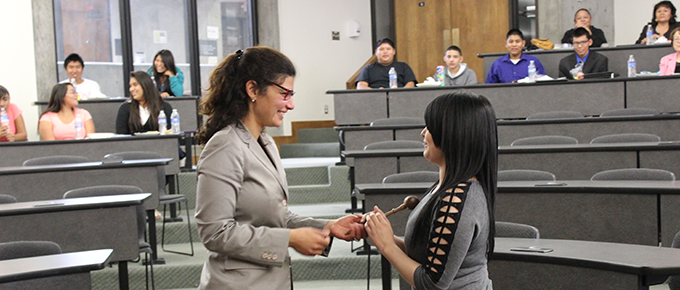 Testing their oral argument skills and knowledge of fourth amendment rights in an intense national competition. Speaking publicly on complex legal topics. Going to Washington D.C. for the first time. Being the first team from the UNM Law School to go to the National Marshall-Brennan High School Moot Court Competition in Washington, D.C.
These are the visions of six students from local underserved high schools who advanced from a pool of 20 competitors in the law school's first annual Marshall-Brennan Moot Court competition on October 30th.
In late March, Alexus Chavez, Kegan Gachupin, Thomas Kenny, Bernadette Rodriguez, Lorenzo Tosa, and Marcus Vigil plan to go to D.C. to compete nationally. They are eager to represent New Mexico. And they need your support.
Gachupin, a member of Zia and Jemez pueblos and Tosa, a member of Jemez pueblo, both attend Walatowa High Charter School and will be the first competitors of indigenous American descent in the history of the competition. Walatowa Charter High is the first reservation-based Marshall-Brennan site in the country. Their instructors and moot court coaches, Connie Tsosie (Dine) and April Wilkinson (Kiowa), have been a part of the Walatowa Marshall-Brennan site since its inception.
All six of the high school competitors will be visiting Washington, DC for their first time for the competition, and for several of them, this will be the first time they will be leaving New Mexico or getting on an airplane. "Competing nationally is a transformative experience," says Assistant Professor Yael Cannon, the group's faculty advisor. "The competitors will have a chance to meet other Marshall Brennan students from across the country, practice important advocacy and public speaking skills, and engage with complex Constitutional law and social justice issues. They and their law student coaches are excited to represent New Mexico for the first time in this national competition. We hope that our training and support of these high school students will lead to them helping out their communities here in New Mexico- perhaps by becoming lawyers themselves!"
The national competition is the culmination of a year-long program of civic education in which law students teach constitutional literacy, civic engagement, and oral advocacy skills to students at local underserved high schools. At UNM, the curriculum also includes the interaction of tribal law and the Federal Constitution. This year, more than twenty law school students were involved in the Marshall-Brennan Program. Three of the law students who have been coaching the high school team will accompany them to D.C. for the competition.
While the National Marshall-Brennan Program covers some of the costs, the law school's delegation cannot afford to travel to DC without your support - even small amounts would be very much appreciated and are tax-deductible. To learn more and support the visit UNM Chapter of Marshall-Brennan.