Environmental Moot Court Team Thrives in National Competition
March 25, 2015 - Tamara Williams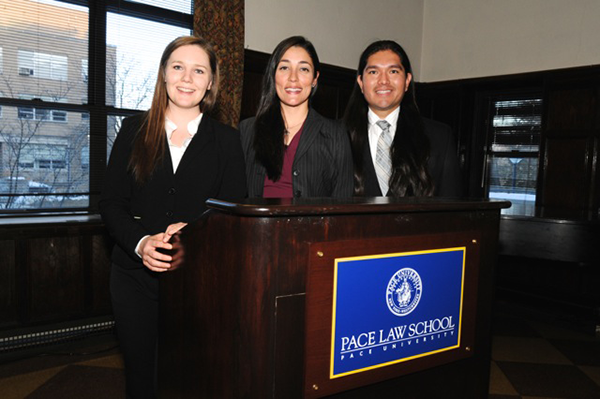 The Jeffrey G. Miller Pace National Environmental Law Moot Court Competition is a very tough one.
The largest competition of its kind nationwide regularly attracts more than 200 competitors and 200 attorneys who serve as judges for three days of oral arguments at Pace Law School in White Plains, New York.
Some teams prepare for over 14 months with a year-long class that includes intensive brief writing and oral advocacy instruction followed by vying for a spot on the team the following year. Some prepare for an even longer period.
UNM Law students Lila Jones ('15), Kelsey Rader ('16), and Dave Nezzie ('15) prepared for less than four months. And they did very well.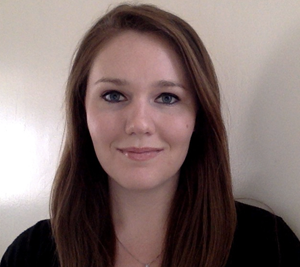 Advancing to quarterfinals; honorable mention for Best Oralist
Of the 62 teams that competed this year, the UNM Team was one of 27 that advanced to the quarterfinal round.
On top of that, Jones was selected as Best Oralist – Honorable Mention for her skills in organization and preparation, courtroom presentation, handling of questions, and legal reasoning.
"It was clear that we were among the intimidating teams, especially after Lila was announced as Best Oralist," said Nezzie.
Support and coaching from alumni and legal community
Instead of a concentrated Moot Court training class, the UNM team received extensive coaching from Samantha Ruscavage-Barz ('08), who specializes in public interest environmental law.
She also arranged practice sessions with panels that helped the team by critiquing their oral argument skills.
"Samantha put an incredible amount of work in to organizing lawyers, judges, and students to help us prepare for the oral arguments and her hard work certainly paid off for the team," said Jones.
Support from the legal community also came from funding to help cover travel expenses from independent supporters and the Natural Resources Section of the New Mexico State Bar.
Ruscavage-Barz said the team worked hard to hone their skills as oralists for the competition. "The oral skills they acquired will also benefit them in their future practice because all of the team members will be able to stand up in court and effectively argue their points in a calm and confident manner," she explained.
Being on the environmental law moot court team was a challenging and rewarding experience for all. "Each of us dedicated countless hours to create the brief and prepare for the competition," said Nezzie, adding that one of the rewards is feeling a stronger connection to his teammates, coach, and the legal community.