Celebrations for Class of 2015 begin the second week of May. Congratulations, graduates!
April 27, 2015 - Tamara Williams

The University of New Mexico School of Law Class of 2015 is on the final step of the journey to receive the Juris Doctorate. Students will celebrate at several events, including the Honors and Awards Ceremony and Commencement.
The Honors and Awards Ceremony – Friday, May 8, 1 pm in the Forum

The Honors and Awards Cercoemony is the first in the commencement celebrations each year and recognizes outstanding academic achievement and significant contributions to the Law School community. The awards are generously sponsored by faculty, alumni and donors.
This year's ceremony will be held on Friday, May 8. Food will be served and mingling will begin at 1:00 with the awards presentation at 2:00.
Commencement – Saturday, May 9th, 1 pm on the north lawn of the Law School

Approximately 110 graduates, faculty and guests will gather to celebrate the graduation of the Class of 2015 on the north law of the UNM School of Law on Saturday, May 9th at 1 pm. The ceremony will be followed by a reception in the Forum of the law school.
The guest speaker this year will be Stephen Bright, President and Senior Counsel for Southern Center for Human Rights and fellow and visiting lecturer at Yale Law School.
Students
Students, please find more information on the School of Law Intranet.
Guests
Campus Map & Driving Directions
Please find more information on School of Law Campus Map & Driving Directions.
Parking
Visitors may park in the law school parking lot, "L" lot, except in the spaces that are reserved for persons with handicap placards. In the event that the "L" lot is full visitors may also park in the adjacent "M" lot or "G" lot which is located at the intersection of Tucker and University. Parking on the surrounding neighborhood streets may be restricted and guests are urged to heed any signs to that effect.
Commencement Videos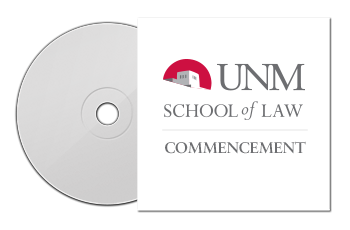 Videos of Commencement Ceremonies can be purchased.
Bright is president and senior counsel of SCHR and teaches at Yale Law School. He served as director of SCHR from 1982 through 2005, and has been in his present position since the start of 2006. He has taught at Yale since 1993.
Subjects of his litigation, teaching and writing include capital punishment, legal representation for poor people accused of crimes, conditions and practices in prisons and jails, racial discrimination in the criminal justice system, judicial independence, and sentencing. He has tried cases, including capital cases, before juries and argued cases before state and federal appellate courts. He has twice argued and won cases before the United States Supreme Court, Snyder v. Louisiana, 552 U.S. 472 (2008) (hear oral argument), and Amadeo v. Zant, 486 U.S. 214 (1988) (hear oral argument). Both cases involved racial discrimination in the composition of the juries.
He has testified on many occasions before committees of both the U.S. Senate and House of Representatives. He has also taught at a number of other law schools, including Harvard, Georgetown, Emory, Georgia, and Tennessee. An on-line version of his course on capital punishment that is available at Yale, YouTube, and iTunesU. His and SCHR's work has been the subject of a documentary film, Finding for Life in the Death Belt, (EM Productions 2005), and two books, Proximity to Death by William McFeely (Norton 1999) and Finding Life on Death Row by Kayta Lezin (Northeastern University Press 1999).
He received the American Bar Association's Thurgood Marshall Award in 1998, the American Civil Liberties Union's Roger Baldwin Medal of Liberty in 1991, the National Legal Aid & Defender Association's Kutak-Dodds Prize in 1992, the National Association of Criminal Defense Lawyers' Lifetime Achievement Award in 2008, several honorary degrees and other recognition set out in the curriculum vitae below. The Fulton Daily Law Report, Georgia's legal newspaper, named Bright "Newsmaker (and Agitator) of the Year" in 2003 for his contribution to bringing about creation of a public defender system in Georgia.