Students argue case before Court of Appeals
April 30, 2015 - Tamara Williams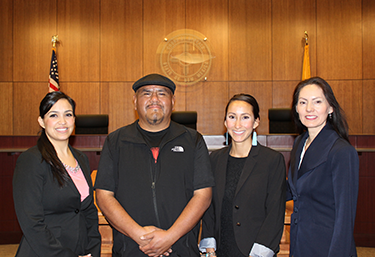 Veronica C. Gonzales ('15) and Heidi Todacheene ('15) represented their client and argued the case before the New Mexico Court of Appeals recently.
A long history of collaboration
The case, Myron G. Yepa v. State of New Mexico Taxation & Revenue Department, No. 33,101, is a result of collaboration and teamwork among students and supervisors in the Southwest Indian Law Clinic (SILC) since 2007.
Gonzales and Todacheene first took the case when they were in SILC last semester and wrote the appellate brief. When it was accepted, they decided to take Advanced Clinic this semester to be able to present the oral argument.
"SILC helps people who normally don't have a voice," said Todacheene. "Our client would never have had the money for an attorney. His rights are no less important than mine or anyone else's."
Support from the legal community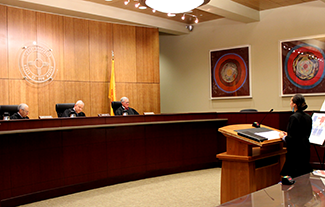 Gonzales and Todacheene did their homework on the case, thoroughly reviewing the file and seeking advice and support from some of the most well-regarded and respected members of the legal community.
"We read a lot of memos from previous years, learned how the law had changed, and became very familiar with the case," said Gonzales.
Students who had worked on the case and were now practicing law volunteered to help, as did experts in criminal justice, faculty, and fellow students. They provided background on the case, legal expertise, and participated in moot oral argument panels to critique the students' arguments on style and substance.
"We practiced in front of ten panels comprised practitioners, alumni, faculty, and fellow students throughout the spring," said Gonzales. "We received an overwhelming amount of support from the law school and the community."
In the courtroom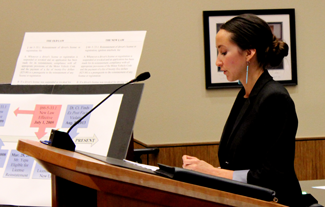 Finally the day for the oral argument came and the team was ready, confident and prepared to be great advocates for their client.
A hush came over the courtroom while Judge James J. Wechsler, Judge Jonathan B. Sutin, and Chief Judge Michael E. Vigil entered.
Gonzales, Todacheene, and Creel rose from the defense table. When the chief judge cracked a joke about how the three women were dressed in black, the tension in the room suddenly dispersed.
Todacheene was first to present the oral argument, followed by Gonzales. Both led with the team's strongest points and strove to convince the judges that the defense's presentation of the legal issues was correct and that request that the appeal be dismissed was just.
The weeks of practice and role-play proved to be very helpful. "In one of our practice sessions, Professor Creel took on the role of the appellant," said Gonzales. "The argument she posed then was almost exactly the same as the actual one in court. She nailed it!"
Observations from the audience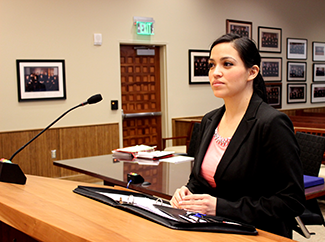 UNM Law students were encouraged to attend the oral argument to observe the appellate process.
Professor David Stout said that Gonzales and Todacheene should be justly proud of their fine work. "Their client was admirably represented by their excellent job in the face of some strong questioning by Chief Judge Vigil and Judge Sutin. Congratulations to Barbara Creel as well for her terrific job in helping to prepare Heidi and Veronica for this important argument."
Brett Phelps, a first year law student, said it was inspiring to watch his classmates argue in front of the New Mexico Court of Appeals. "Both Heidi and Veronica did a fantastic job," said Phelps. "It makes me proud to be a UNM law student, seeing my colleagues perform so well at such a high level."