Law School Celebrates Achievements of Class of 2015
May 27, 2015 - Miriam Knof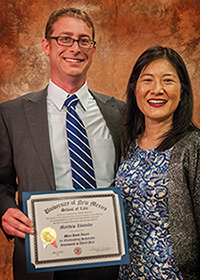 The Honors and Awards Ceremony celebrating the Class of 2015 was held on Friday, May 8 at the UNM Law School Forum.
Sponsored by faculty, alumni and donors, the ceremony recognizes students for outstanding academic achievement as well as significant contributions to the Law School, the local community, and beyond.
Professor Sergio Pareja introduced each presenter and announced the awards. Faculty, alumni/ae and donors praised the students and remarked on their accomplishments.
Faculty shared memories of the distinguished current and former faculty, judges, alumni and members of the law school community for which the awards are named.
"As a member of the Honors and Awards Committee, I know how difficult the selection process is for the professors because of the high caliber of candidates who are nominated for the awards," says Nancy Huffstutler, Associate Director of Student Services.
Huffstutler says that the awards ceremony is a celebration of the achievements of the faculty in helping students reach their potential and of students who have distinguished themselves in their time here. "It's also a chance for donors to connect with the students who are the beneficiary of their generous support," she says.