2015 UNM Law Scholarship Golf Classic A Big Success
June 24, 2015 - Tamara Williams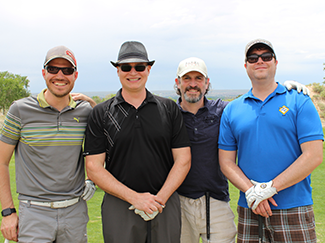 Dozens of very generous sponsors and thirty-seven teams of enthusiastic players had a similar opinion. They consider the 2015 Golf Classic presented by U.S. Eagle, held on Friday, June 5 at the UNM Championship Golf Course, the best yet.
The event sells out each year because it's known for being a fun and classy event that supports a great cause. The Golf Classic helps the Law Alumni Association support the school's only full-tuition merit scholarships.
This year's event kicked it up a notch, with thousands of dollars in raffle items and a new silent auction, featuring golf vacations, entertainment and dining packages, and high-end gifts.
UNM Law School classmates, alumni, friends and family enjoyed a fun day with nearly perfect weather, snack and hydration stations throughout the course, free beer courtesy of Nexus Brewery and Kelly's, a delicious lunch provided by Gourmet to Go, and dinner courtesy of Kelly's Brew Pub.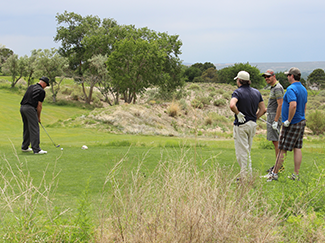 Ray Gordon participated the first time this year. "I thoroughly enjoyed the tournament and all the attendant activities," says Gordon. "I 'stacked the deck' by buying enough raffle tickets to reach a 50% probability on the ladies Coach golf accessories for my wife. I also won the silent auction for the Southwest Golf package. Nic Dillavou (my grandson) and I will enjoy playing some very nice courses over the next few months."
Other things that made the day special were deluxe bag service from the delivery bay to the golf cart, a fully-loaded gift bag, an unlimited number of practice golf balls, and members of the UNM Men's Golf Team, who helped players with a pro tee shot.
Thank you to our very generous sponsors who helped make the 2015 UNM Law School Scholarship Golf Classic the best yet.