Adriel Orozco ('16) receives prestigious public interest labor law fellowship
June 18, 2015 - Tamara Williams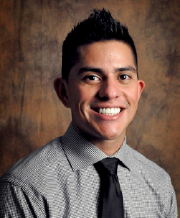 UNM Law School student Adriel Orozco ('16) recently received a 10-week summer public interest labor law from the Peggy Browning Fund. Orozco is spending the fellowship working at Friends of Farmworkers in Philadelphia, PA.
Peggy Browning Fellows are distinguished students who have not only excelled in law school but who have also demonstrated their commitment to workers' rights through their previous educational, work, volunteer and personal experiences.
"I was really excited to learn that I would have the opportunity to be part of the Peggy Browning Fellowship, not only because of its national scope and strong network, but because it really strives to help us develop our skills as advocates for workers in our communities," says Orozco.
Friends of Farmworkers provides free legal representation on employment-related issues to low wage agricultural workers in Pennsylvania. Orozco is assisting attorneys in recovering unpaid wages, doing outreach across the state to inform workers of their rights, and assisting immigrants who have faced labor trafficking to obtain a stable immigration status.
The Peggy Browning Fellowship application process is highly competitive, and the award is a tribute to Orozco's outstanding qualifications. He is the son of Mexican immigrants and the first in his family to graduate from college and pursue a professional degree.
Before going to law school, he worked as a community health worker at the New Mexico Immigrant Law Center (NMILC), where he helped clients access social services. Through this experience, he witnessed many of the barriers immigrants face in obtaining employment and earning a livelihood.
Orozco continues to work at NMILC as an immigrant advocate and hopes to expand his work to assist immigrants with employment and labor issues after law school.
Currently, he serves as the Citations Editor for the NM Law Review; is the Board Secretary of Enlace Comunitario, an organization fighting to end domestic violence in the Latino community; and is a former Board member of the Mexican American Law Student Association.