Professors Tu and Sidhu help mentor new law professors at AALS workshop
July 23, 2015 - Tamara Williams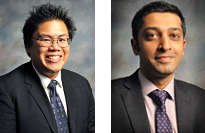 Associate Professors of Law Kevin Tu and Dawinder "Dave" S. Sidhu are paying it forward. The two emerging stars on the faculty, favorites among students for their teaching and sartorial skills, passed along advice to new law teachers at an Association of American Law Schools conference in Washington, D.C. in June.
Tu and Sidhu moderated, along with Associate Professor Andre Smith of Widener University Delaware Law School, a workshop sponsored by the AALS Section on Minority Groups.
During the session, Tu and Sidhu answered questions from workshop participants and provided advice to new minority law professors. The session covered a wide range of topics, including tips for developing and promoting legal scholarship, strategies for becoming an engaged member of the law school and broader academic community, and approaches for creating course content and successfully engaging students.
"UNM is a special law school with a faculty that fully appreciates the unique roles of law professors as legal scholars with the power to shape the law, educators with the responsibility for training future lawyers, and servants of the community," said Tu. "I remember how daunting this all seemed to me as a new law professor and I appreciate the opportunity to pass on some of the things that I have learned from my colleagues here at UNM on how to successfully balance the various demands of being a law professor."
As Tu and Sidhu attended an AALS conference for new law professors prior to joining the law school, they found the opportunity to share what they learned since then to be personally and professionally significant. "We wouldn't be here without the support and guidance of many people, including law professors. Now that we have experience, we have a responsibility to help others along and welcome our colleagues to the profession," Sidhu said.
"It is a real pleasure to welcome new minority law professors to the legal academy, and it is rewarding to help them, in a small way, start a successful career at their respective law schools," Tu added.