UNM Law School continues to surpass national employment rates for graduates
July 14, 2015 - Tamara Williams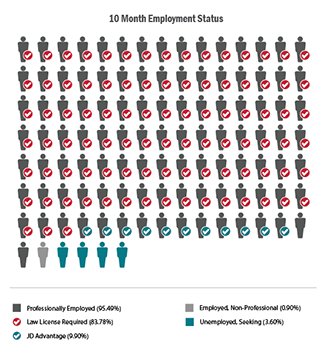 Most students come to law school to get a full time job as a lawyer. Ninety-four percent of the UNM Law School 2014 graduates are employed in jobs requiring passage of the bar exam or where a J.D. is a distinct advantage – much higher than the national average of seventy-nine percent.
Eighty percent of the Class of 2014 are employed in full-time, long-term positions requiring passage of the bar examination, well above the national rate of 60 percent.
Mirroring the school's admission policies, most UNM Law School graduates stay in New Mexico (85 percent for the Class of 2014). The second largest market last year was Washington, D.C.
This is the third year in a row that the UNM School of Law has surpassed the national employment rate in this key metric by more than 12 percent.
The UNM Law School also surpasses Yale and its regional peers in the Southwest (see table below).
Heather Harrigan, Assistant Dean of Student & Career Services, says, "In addition to having a smaller class size and higher employment rates than other law schools in the Southwest, the law school has a very active connection to the bench and bar, offering students opportunities for collaboration, training and employment."
Full-Time, Long-Term Bar Passage Required Employment Outcomes for 2014 Graduates
Throughout their experience at the UNM School of Law, students take classes that focus on developing their professional competencies.
The Office of Student & Career Services works with students from their very first semester of law school to help them imagine, plan and start their career. "Students also are supported by faculty and alumni who are devoted to our students' success, which contribute to our very strong employment rates. The strength of this professional network is unlike any other I have encountered and I believe is tied to the important public mission of the school," says Harrigan.
The UNM Law School is also very successful in helping graduates secure JD advantage positions – jobs for which bar passage is not required but for which a JD degree provides a distinct advantage. Of the 111 graduates in the Class of 2014, 104 secured positions that were either bar passage required or JD advantage positions.
The UNM Law School's rate for all types of employment – bar passage required, JD advantage, non-professional and part-time work – for the Class of 2014 is 96 percent. That's 11 percent higher than the national rate.
"The Natural Resources and Environmental Law Program Department helped prepared me for a career as an environmental attorney. Aside from excellent course instruction, I received individualized mentorship from many of the faculty.

Career Services was a strong ally in my job search. The entire office is a team and worked together to help me in any way they could. Every step of the way I received guidance and support, and when I learned about my job offer, they celebrated with me too."
"The real-world experience I gained in clinic, through negotiations with state and federal agencies on behalf of my clients, has prepared me for my post law school career.

Thanks to the tireless efforts of our exceptional career services staff, I was able to interview with a number of employers from various areas of legal practice.

It is no wonder why UNM School of Law consistently ranks among the top tier of law schools for its excellence in clinical education and commitment to finding students jobs."
"I sincerely believe that the UNM School of Law equipped me with strong professional skills to start my new legal career.

The Office of Career Services provided me unfaltering support starting from my first day of law school. Heather Harrigan and the rest of the Career Services team taught me the importance of networking, persistence, and most importantly, to be confident in my legal capabilities."