Professor Sidhu Elected to the Council on Foreign Relations, Receives Honor from Justice Scalia at the Supreme Court
July 1, 2015 - Tamara Williams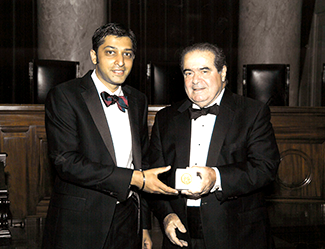 Albuquerque, NM – UNM Law School Professor Dawinder "Dave" S. Sidhu was elected to a term membership in the Council on Foreign Relations ("CFR"), an independent, nonpartisan think tank on world affairs.
Founded in 1921, the CFR convenes experts to address "international questions affecting the United States."
Its members include Supreme Court Justices Stephen Breyer and Ruth Bader Ginsburg, presidents, secretaries of state, senators, and generals, as well as leading academics, business executives, and nonprofit professionals.
UNM Law School Professor Jenny Moore, who teaches international law and international human rights, says that Sidhu's selection to the CFR acknowledges his fine teaching and scholarship in the area of national security law. "In the classroom and in scholarly publications, Dave challenges his students and colleagues to affirm the rule of law in the midst of US counter-terrorism policy and military intervention," says Moore. "Dave's membership in the Council reflects UNM Law School's commitment to international legal studies, and New Mexico's engagement in global affairs."
"I am honored to join such a distinguished organization, one committed to understanding and developing solutions to pressing global challenges," says Sidhu. "I hope to make meaningful contributions to the Council, and I am confident that my work with the Council will enrich both my teaching and scholarship at the law school."
"My engagements with Council members already have been very fruitful," he adds.
Sidhu teaches national security law and serves on the academic advisory board of UNM's National Security Studies Program. He was a legal observer of the military commissions at Guantanamo, has been pro bono counsel in Supreme Court and federal appellate court cases related to post-9/11 national security matters, and has written about the role of the courts in wartime and the experiences of Muslims and those perceived to be Muslim after 9/11. In 2014, for example, his article, "Judicial Modesty in the Wartime Context," was published in the peer-reviewed Journal of Supreme Court History.
This summer, Sidhu also was recognized at the Supreme Court of the United States for his service as the New Mexico state chair of the Supreme Court Historical Society. The Society is a non-profit organization dedicated to preserving and promoting the history of the Supreme Court.
"Working as a Supreme Court Fellow [in 2013-14] was a transformative experience for me. Volunteering with the Society is a wonderful way for me to maintain my relationship with the Court and to also give back to an institution that lies the heart of our democracy and our profession," Sidhu explains.