Utton Center Launches Biography of Al Utton
August 25, 2015 - Tamara Williams


Professor Al Utton
Al Utton–Aztec Eagle: International Waters, Research, Diplomacy, and Friendship
Reception and Book Reading by Michele Minnis
Thursday, September 24, 5–7 p.m.
UNM School of Law Forum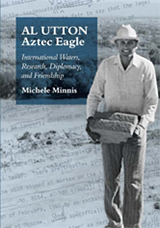 The Utton Transboundary Resources Center was established at the University of New Mexico School of Law to carry on the work of the late Professor Albert E. Utton (1931-1998) related to transboundary resource issues. Professor Utton was recognized as a visionary and man of diplomacy during his lifetime and received the Order of the Aztec Eagle medal from Mexico, that nation's highest honor to foreigners in recognition of service to Mexico and humankind.
Michele Minnis's biography describes the experiences and decisions that powered Utton's success and his efforts to inform decision-making and conflict resolution over the resources that cross frontiers of nations, states, and regions.
Al Utton was co-founder of The International Transboundary Resources Center (CIRT) and the Natural Resources Center (NRC) at the University of New Mexico School of Law. He was editor of the Natural Resources Journal for 36 years. He served in many civic capacities in Albuquerque and throughout New Mexico.
A native of Aztec, New Mexico, Al Utton received his undergraduate degree in geology from UNM. As a Rhodes Scholar, he received a law degree from Oxford University. Utton returned to New Mexico and became a faculty member at the School of Law in 1962. At the UNM School of Law he focused his talents and energies on natural resources and environmental law and policy. He created a new area of academic endeavor—international border studies.
An excerpt from the biography describes a project led by Utton and César Sepúlveda, head of the Instituto Matías Romero de Estudios Diplomáticos—his country's "prep school" for diplomats:
The next Utton-Sepúlveda project, the US-Mexico Transnational Resources Study Group, produced the two-part 1977–78 landmark work, "Symposium on US-Mexican Transboundary Resources." In a follow-on initiative, Utton and Sepúlveda were joined as principals by Stanley Ross, director of the Mexico-United States Border Research Program at the University of Texas at Austin. Results of that multi-year binational project, "The US-Mexico Border Region: Anticipating Resource Needs and Issues to Year 2000," are reported in a book of the same name. Introducing it, Ross expressed an idea that had long motivated Utton:
"All too often we wait until issues are upon us in a confrontational atmosphere before we seek to develop responsive policy. Under those circumstances, the research and analysis on which policy should be based not only does not exist, but there is not time available in which to develop it.
"Here we are trying to anticipate transboundary resource problems before they are upon us—which will not be too long. Here we are trying to develop the research and analysis on the basis of which reasonable policy alternatives may be examined and the consequences of what we are doing and what we plan to do will be understood and considered. A great deal of the anticipated problems in the border region relate to its development—human development, industrial development, agricultural development, and energy resource development. In whatever form, development puts demands on transboundary resources and impacts the ecology of the region, which will affect the success of the development efforts and the quality of life of rapidly growing populations on both sides of the border."
[Excerpt from Al Utton—Aztec Eagle, by permission of the author]
To perpetuate the legacy of Professor Utton, the Utton Transboundary Resources Center researches and provides information to the public about water, natural resources and environmental issues, with a particular focus on New Mexico and the Southwest. It also supports collaborative natural resource management using multidisciplinary expertise and inclusive, diverse stakeholder involvement.

Author Michele Minnis, PhD, was one of the founders of the University of New Mexico Master of Water Resources Program (est. 1991). While teaching fifteen years on its faculty she served twice as its acting director. For most of that time she was also associate director of the Natural Resources Center, created by Al Utton as an education, research, and public service arm of the Natural Resources Journal. In the early 1980s, Minnis designed and directed a legal writing program for first-year UNM law students. Now retired, she lives in Corrales.
For more information, contact Laura Burns at burns@law.unm.edu or 505-277-3253.