Beyond the classroom: students work at Indian Law nonprofits
September 8, 2015 - Jim Williams and Stevie Nichols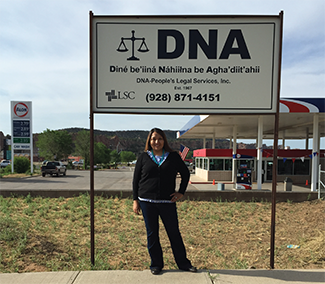 The UNM Law School's commitment to providing students with a quality education goes beyond the classroom. With the help of the Office of Student & Career Services, three students pursuing Indian Law worked in nonprofit organizations this summer.
Positions with client-oriented nonprofit public interest organizations are opportunities to serve the public good while acquiring valuable, substantive legal experience that assists students in securing and doing well in future legal employment.
Client-oriented nonprofit public interest organizations provide legal assistance to people who could otherwise not afford representation.
Legal assistance providers, often referred to as legal service organizations or legal aid societies, usually handle matters involving government benefits, housing, family law, consumer law, and employment issues. Some organizations specialize in particular areas such as Indian law, serving the legal needs of Native American individuals.
Many of these organizations also engage in impact litigation to work with tribes in furthering tribal rights.

Summer experience: I spent ten weeks working as a law clerk at DNA People's Legal Services in Window Rock, Arizona.
What made you chose this particular internship? I wanted to work with DNA People's Legal Services because this was an opportunity to return home and help my people. DNA People's Legal Services serves clients from the Navajo and Hopi reservations, assisting individuals who normally cannot afford legal counsel. I also wanted to improve my Navajo speaking skills.
What projects are you working on? I worked on a breach of contract case for a sale of a home and several child custody modification petitions and domestic violence protection orders. The amount of practical experience I am gaining from DNA is amazing!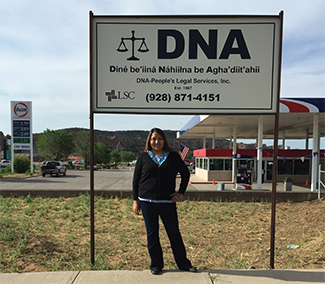 What have you learned from this experience? I have learned a lot about how interconnected the Navajo courts are with the Diné be' iiná (Navajo Way of Life). Every court opinion I've read has a story of how the ruling is in line with Diné be' iiná. I've learned how it is important for our Navajo people to stay connected and knowledgeable of our culture. I've also learned the importance of access to justice for low-income individuals. Many individuals feel they have no legal recourse and that is not true. Through DNA, I am able to help educate individuals about their legal rights and help them gain favorable outcomes.
What's your background? I grew up in Fort Defiance, AZ, about 6 miles from Window Rock, AZ, and went to high school at Native American Preparatory School in Rowe, NM.
After graduating from UNM with two bachelor's degrees – one in psychology and the other in history – I applied to UNM School of Law because I wanted to earn the Indian law certificate.
The great thing about UNM Law is the close proximity to many different tribes. We have the ability to learn a lot from their individual tribal courts and make important connections in Indian Country. There aren't very many schools where you can do that.

Summer experience: Clerking at the DNA People's Legal Services Monument Valley office, the primary legal aid provider for the Navajo Nation and the surrounding communities.
What projects are you working on? I am currently working a variety of cases as well as a few big projects. One component of my work is assisting numerous clients completing pro se corrections of records petitions. Very often small typos or misspellings on official documents like birth certificates or Certificates of Indian Blood can prevent individuals and their families from receiving important benefits such as Social Security or uranium benefits.
I have learned how to draft petitions to correct these mistakes so that clients can resolve problems caused by inconsistent records. These cases are often amazing history research projects because the clients and I have to track down and examine really old documents that state correct names and birthdates like marriage certificates, medical records, and family cards.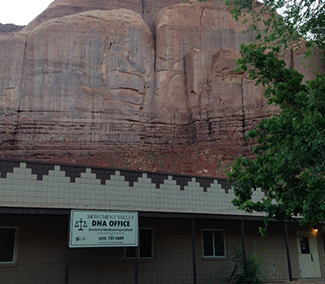 Another task I am working on is drafting a Petition for Guardianship for grandparents who seek to prevent their grandchildren from living in an abusive home. I have also drafted memoranda on major environmental issues in the region.
What have you learned from this experience? So far my experience clerking at DNA has taught me the basics of taking a case including interviewing clients, determining a beneficial course of action, researching legal issues using Navajo tribal law, making contact with adverse and related parties, drafting court documents, and providing clients with instructions about the court process.
Most importantly I have learned that I really enjoy and feel fulfilled by doing legal aid work in Native communities with Native individuals and families. It is very easy to imagine myself at DNA or in a similar organization once I become an attorney.

Summer experience: New Mexico Legal Aid Native American Program office in Santa Ana
What interested you the most about this opportunity? I mostly wanted to experience how practicing attorneys address the different kinds of issues brought to them by Native clients. I wanted to get a good initial exposure to the profession in a setting that focused on American Indian clients and Native issues.
What projects are you working on? I did research for attorneys at the Native American Program and looked into a jurisdictional question (state or tribal court). One attorney also wanted to know more about possible conflicts of interest and due process violations arising from Pueblo police officers prosecuting their own criminal arrests of Pueblo members. I also worked on updating the program's forms. One of the more challenging projects was that of updating the program's criminal pro se packet for Pueblo members. We also developed a "rights card" modeled on the ACLU card but with significant Pueblo-specific changes.
What have you learned from this experience so far? I learned that the Pueblo government and courts are sometimes different from state and federal courts and government, even though they also share many common features. I realized at a Legal Aid continuing legal education (CLE) event that not all attorneys are the same. This seems obvious now that I think about it, but even after a year of law school, I had a fairly stereotyped image of "the lawyer" in my mind. Luckily, those Legal Aid attorneys reminded me that everyone is different, even within any category of lawyers. This encouraged me.
How will this help with your career goals? The main way the externship helped was to give a basic exposure to the practice of law, especially American Indian and tribal law in and around New Mexico. The attorneys and staff at NMLA's Native American Program were very helpful, kind, supportive, and patient, and serve as excellent role models for me as a future attorney. Now I feel ready for my next externship.
What's your background? I grew up mostly in rural areas of northern California and Alaska, raised by a blue-collar father who became a teacher when I was a teenager. We moved to a village in western Alaska where my dad taught elementary school. I was the only non-Native kid in the high school, and enjoyed living in bush Alaska. The kids and community were very friendly, and there were a lot of outdoorsy things to do.
I served four years in the U.S. Army as a truck driver, mostly at Fort Bragg, North Carolina. I then went to college in Fairbanks and Anchorage, Alaska. I worked as a Master's-level behavioral health clinician for about seven or eight years.
I married my wife, who grew up in Aztec, New Mexico, in 2010. We recently had our first child, and are thrilled to be new parents.