Students work in Indian Law for private firms this summer
September 8, 2015 - Jim Williams and Stevie Nichols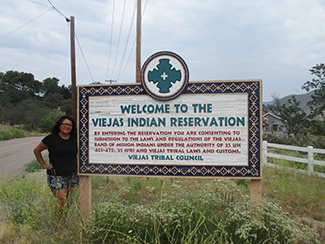 Many UNM Law School students have increased their skills and marketability by working for private firms this summer.
With the help of the Office of Student & Career Services, students found work specializing in Indian Law. They share a deep commitment to protecting tribal rights, sovereignty, immunity, and self-governance.
Private law firms typically strive to give summer associates varied assignments and to provide an accurate idea of the firm's practice and atmosphere.
Within private firms that specialize in Indian law, a student might gain experience in representing and counseling tribes and tribal-affiliated clients in a wide range of legal matters, such as corporate, environmental, intergovernmental negotiation, litigation, legal services, intellectual property, employment, real estate, construction, healthcare, fee-to-trust and regulatory guidance.

Summer experience: Procopio Native American Law Internship with Procopio, Cory, Hargreaves & Savitch LLP in San Diego, CA working on legal issues specific to Native American governments, business and inter-tribal entities.
What projects are you working on? One of my biggest projects is working on a community project with Maataam Naka Shin and the Southern California Tribal Chairmen's Association to develop a phone/pad application, 'Indigenous San Diego,' which provides an interface for users to learn about publicly available San Diego area tribal museums, indigenous exhibits in museums, cultural trails, tribal lands and preserves, Native businesses, methods to share about their sacred stories, places to gather, art exhibits, and community meetings. The application is being created to support the nonprofit educational purposes of Maataam Naka Shin.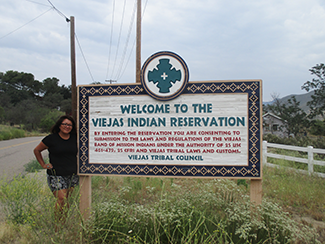 Another project I am working on is writing for Procopio's Blogging Circle. The Procopio Blogging Circle is created by the Procopio Native American Practice Group, its friends and its colleagues. Blogging Circle is a forum to share legal news and ideas affecting Native American Communities. (https://bloggingcircle.wordpress.com/<a/)
How will this help with your career goals? My summer with Procopio has helped me network with Southern California tribes and Native attorneys in the area. I went into law school wanting to practice Environmental Law, Water Law, & Indian Law, and my experience with Procopio has reaffirmed my path.
What's your background? I grew up in Northern Arizona and New Mexico in the Navajo Reservation. After receiving my undergraduate degree from the University of Arizona, I attended graduate school at UCLA. I wanted to attend UNM Law School for the Natural Resources and Environmental Law Program.

What projects did you work on?
All the firm's clients are Indian tribes, entities, or individuals. The projects I worked on involved legal research to support expert rebuttal reports for a claims mismanagement case, to provide a cultural, historical, and economic background of a tribe that was a potential new client, to provide legal analysis for numerous issues, such as condemnation of allotted lands, evolving marijuana laws, taxation of an off-reservation service provider to Indians on-reservation, and much more. I wrote numerous memoranda and a Motion to Bifurcate. Research and writing are by far the majority of the work I do.
How will this work help with your career goals?
Working at the firm helps with my career goals because the work of Johnson Barnhouse & Keegan is exactly what I want to do after I graduate. The firm is not subject-specific. It represents all Indian clients on a plethora of legal issues. As a result, the work is continually challenging. I am continuing my employment with the firm as my summer clerkship worked out well for both the firm and for me.
I am happy there and fit in well. I received a lot of fantastic feedback from great lawyers at this firm, about the law and about law school. I never intended on working at a firm when I began law school; however I didn't know that an Indian law firm like JB&K existed. The firm does amazing work in Indian Country. In fact Jemez Pueblo, represented by the firm, just prevailed at the Tenth Circuit on an important case regarding Aboriginal title.
What's your background?
I am Choctaw and Blackfeet. My home is Browning, Montana (I am from Hawai'i and lived in other states), but I will stay in New Mexico and practice. I met my wife here and she is from Santa Fe. This is a fantastic place to be for Indian law. I have a Bachelor of Science in Anthropology from University of Oregon and a Master of Arts in Anthropology from University of New Mexico.

What projects did you work on?
Primarily, I do legal research and draft memorandum responses to tribal inquiries. The inquiries range from tax authority to health care regulations and contracting.
This summer, my primary focus has been related to tribal health centers: analysis of provider license requirements, health provider contract reviews, contracted health care arrangements, etc.
Currently, I am assisting tribes prepare for and participate in negotiation of their contracts and compacts under PL 93-638 (ISDEAA- Indian Self-Determination and Education Assistance Act) with the Indian Health Service and Bureau of Indian Affairs. This involves developing both funding agreements and scopes of service between the federal agency and the tribe. A huge part of my work is orienting tribal staff to the contracting process and the federal agency process and forms.
How will this work help with your career goals?
My career goal is to practice Health Care Law as is applies to tribal communities, tribal organizations, tribal health centers and hospitals. My summer work has given me the opportunity to work in both Indian Law and Health Care law. I will need to be strong in both areas to be an effective advocate in Indian Country.
What's your background?
After college graduation, I was a High School English teacher for seven years. I taught on the Fort Berthold Indian Reservation located in western North Dakota and in the border city of El Paso, TX. I loved teaching, but wanted to work with tribes. I applied for a position as the Contracts and Grants Manager for the Pueblo of Jemez Health and Human Services in 2002.
My position was later transitioned to a Program Specialist for the Pueblo of Jemez tribal administration; I oversaw contract and grants management (grant writing, federal contract negotiation, regulatory compliance, program monitoring, etc.) for the entire tribal organization for over a decade.
My work as a teacher best prepared me to work with diverse populations, to manage multiple projects and to work as part of a team, but I grew up professionally at the Pueblo of Jemez. I owe that organization a tremendous amount of gratitude and believe that my work experience will enable me to provide future tribal clients with both a day-to-day practical hands-on perspective and legal perspective.
My experience with the Pueblo of Jemez Health and Human Services made me realize that there is gap in the legal field of individuals with both Indian law and Health Care law backgrounds. With the passage of the Affordable Care Act and the Indian Health Care Improvement Act, this need has become critical in Indian Country. I hope my work as a lawyer will help fill that gap.