Distinguished Achievement Awards Dinner
October 23, 2015 - Melissa Lobato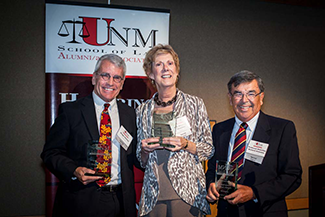 On Friday, October 16, over 400 attendees gathered to celebrate the 2015 Distinguished Achievement Awards Dinner. The awards dinner is the Law Alumni Association's signature event and recognizes the achievements of notable members of the law school and legal community. Proceeds from the dinner benefit full-tuition merit-based scholarships available to select UNM law students.
The honorees at this year's Distinguished Achievement Awards Dinner were Briggs Cheney ('73), Professor Emeritus Richard Gonzales and The Hon. Elizabeth Whitefield ('77). Each of the honorees have dedicated their lives and careers to not only practicing law but to service.
"This is one of the best Award Dinners I have been to—in fact the very best. Each of honorees had compelling stories that went beyond success in law. It was extremely moving. They turned their difficulties to inspire and benefit others both inside and outside of the law community. It was a wonderful and uplifting trio of honorees," said Peter Winograd, 2004 award recipient, about this year's event.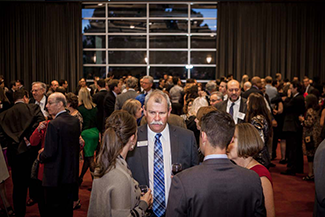 Deepest thanks go to our top sponsors Keleher & McLeod; Modrall Sperling and Dixon, Scholl & Bailey. The UNM Law School is very grateful to SaucedoChavez; Hinkle Shanor LLP; Sheehan & Sheehan (in honor of Briggs Cheney); Sutin Thayer & Browne (in honor of Prof. Richard Gonzales); Terry & deGraauw (in honor of Judge Whitefield); Martinez, Hart & Thompson; Civerolo, Gralow, Hill & Curtis; Parnall Law Firm, LLC; Rodey Law Firm; Jaramillo Touchet LLC; Walther Family Law and all of our sponsors who made this event a special occasion.
The goal of the Distinguished Achievement Awards Dinner is to honor extraordinary accomplishments and dedicated service by lawyers and others in the legal community to the UNM School of Law, the New Mexico legal community and the greater community inside and outside of New Mexico.
Since the dinner began in 1993, 65 honorees, more than 7,400 attendees and hundreds of sponsors have participated in the event. The dinner has raised over $570,000 for law school programming, including the Law Alumni Association full-tuition scholarships, the Law School's only merit-based full-tuition scholarships presented to incoming law students.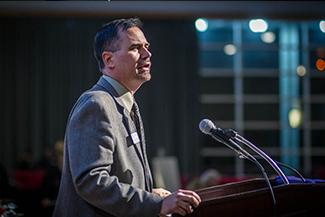 Photo credit: Mark Holm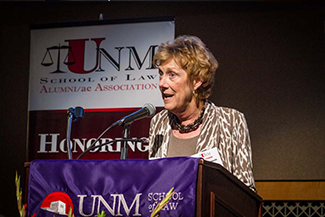 Photo credit: Mark Holm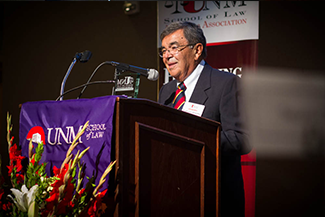 Photo credit: Mark Holm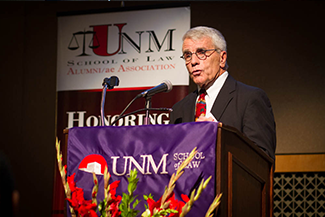 Photo credit: Mark Holm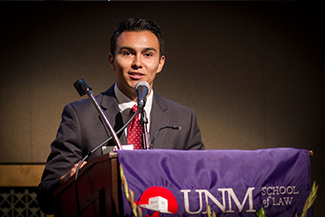 Photo credit: Mark Holm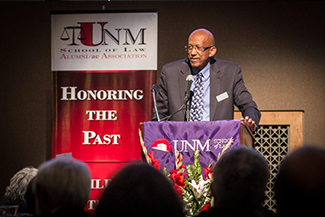 Photo credit: Mark Holm