UNM School of Law ranked 6th for best value
November 12, 2015 - Tamara Williams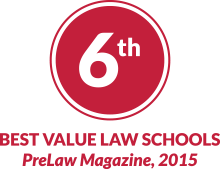 A degree from the University of New Mexico School of Law is one of the best values in the nation, according to The National Jurist magazine.
The UNM School of Law was named 6th Best Value Law School in the 2015 ranking, which the magazine indicates, "is designed to find the law schools where graduates have excellent chances of passing the bar and getting a legal job without taking on a ton of debt."
The best value methodology takes into account the annual cost of tuition ($16,251 at the UNM School of Law), cost of living ($15,333 per year in Albuquerque), average debt ($71,029), the bar passage rate (88.2 percent) and uses a formula incorporating the American Bar Association's official employment statistics.
Employment is weighted the most heavily in the ranking, and 94 percent of the UNM Law School 2014 graduates are employed in positions requiring passage of the bar exam or where a J.D. is a distinct advantage. The national average is 79 percent.
"The combination of high employment rate, low tuition, and high percentage of graduates who pass the bar exam makes the UNM School of Law an excellent value," says Dean Alfred Mathewson.
"The bottom line is that students at the UNM Law School graduate with their career options less constrained by debt, enabling them to make the best choices for their career paths," explains Dean Sergio Pareja.
The UNM Law School has consistently ranked in the Top 20 Best Value Law Schools, and its 2015 ranking is up five points from last year. This uptick in the UNM Law School's ranking ─ from #11 in 2014 to #6 in 2015 ─ is due primarily to tuition remaining the same while the average amount of student debt decreased. During the past year, the employment rate for UNM Law graduates also increased, and the percentage of students who passed the Bar exam continues to exceed 80%, a pass rate that surpasses other law schools.